Bikini Body: Do Hula, Don't Eat Rice

By
.(JavaScript must be enabled to view this email address)
Friday - May 02, 2007
|
Share
Del.icio.us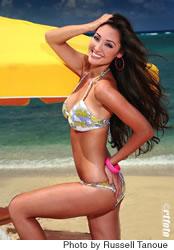 Aureana Tseu
Every year, our annual MidWeek swimsuit issue is one of the most looked at. Last year, it got more than 15,000 views on our website.
The purpose of the feature is to show off the latest trends in swimwear. But one of the most asked questions is: How do these models get their bikini bodies?
"I don't eat rice anymore," answers 23-year-old Aureana Tseu, this year's cover girl. "I love rice, but in January I stopped eating it because it's the easiest way to maintain your body. And since then I noticed I had a lot more energy, and I lost a lot on my waist and love handles. I really saw a big difference within the first three and a half weeks.
"Also, if I eat bread I eat it no more than twice a week, and I drink a lot of water and dance a lot of hula."
Tseu, who was named Miss Hawaii Teen USA in 1999 and Miss Hawaii Filipina in 2003, recently returned from the Merrie Monarch Festival where she was first runner up in the Miss Aloha Hula competition.
She is the youngest of three daughters of kumu hula Iwalani Tseu, and has been dancing since age 3.
"Dancing hula is a really good exercise and it's fun performing," says Tseu, who dances at least four times a week. "You get really strong legs and abs when you learn to do the hula noho, and the shoulder area gets heavy because you're always keeping your arms up. Also, you get really nice hips because you have to move your hips with every movement.
"And when you dance hula you get a sense of self-achievement, especially after you learn a song that took a long time to choreograph or a long time to learn. And you get to connect with the Hawaiian culture, whether you're Hawaiian or not."
Tseu, who stands 5 feet 7 inches tall and weighs about 120 pounds, works at Kamehameha Schools where she is a dorm advisor during the summer and helps with special events in the performing arts department during the school year.
She is also an entertainer and model. Coming up she will be performing in Japan and at Na Leo's Mother's Day concert.
"My biggest challenge with staying fit is the diet," admits Tseu. "I'm always watching what I'm eating because I love to snack. I love dessert. I love anything sweet and I love bread.
"That's my challenge, being able to have self-discipline to not snack on those things and to not eat right before I go to bed. And what I do about it is I drink a lot of water. And if I'm still hungry I'll eat something, but I try to keep it to vegetables or a healthy snack.
"As for my body, the most challenging part is the back of my thighs, especially because being a hula dancer it builds up on the bottom from all the bending. So, one thing I like to do is simple leg lifts that I learned from Carmen Electra's fitness video when I'm in the shower. You stretch one leg back and do lifts up and down."
Tseu also uses children's bowls to eat from instead of regular plates to keep her meal portions small.
She also tries to eat breakfast every morning and drinks 12 ounces of water when she wakes up.
"When I wake up in the morning I usually have a bowl of cereal (her favorite is Honey Bunches of Oats) and that can last me until noon or 1 in the afternoon," she says. "And I get up early to swim, usually at Kaimana Beach, at least three times a week. And I do a lot of walking."
Some of Tseu's beauty favorites: * Neutrogena sunscreen with SPF 55: "As much as I love the sunshine, I love being fair-skinned," she says. "Even if I'm not going to the beach, it's the first thing I put on my face."
* Merle Norman mascara in extra-thick black:"I try not to wear makeup every day, but I will wear mascara. I have to wear mascara."
* Merle Norman Luxiva nighttime recovery cream: "That's a must. I love Merle Norman products, and their makeup too."
* Menehune water: "I drink at least two big bottles a day."
Most Recent Comment(s):