Biting Bed Bugs

By
.(JavaScript must be enabled to view this email address)
Friday - August 18, 2006
|
Share
Del.icio.us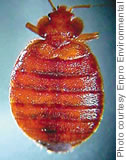 A bed bug
Good night, sleep tight, don't let the bed bugs bite.
Yes, it's true. Those tiny, blood-sucking bed bugs are alive and well in the Islands.
According to Scott Duzan of Enpro Environmental in Kailua, several cases of bed bugs have been reported to the National Pest Management Association by Hawaii hotels.
"Bed bugs had not been an issue until recently because we used to use DDT (a pesticide) on bed bugs for about 50 years," says Duzan. "Then we found out DDT is carcinogenic so we banned it, and bed bugs kind of laid low because they're not a disease-carrying insect.
"But once we stopped using DDT combined with the major rise in international travel, bed bugs infestations have grown increasingly since the late 1990s. In certain areas, they've estimated an up to 500 percent increase."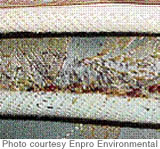 Bed bug feces on a mattress
Got bed bugs? The first sign to look for is if you have bites (usually very small, red, circular shapes, smaller than a mosquito bite). Bed bug bites are usually concentrated on the arms and legs, and depending on how bad the infestation is people can get up to 100 bites in one night.
"The number of bites depends on how bad the infestation is in that particular room and how hungry the bed bugs are," says Duzan. "They can take up to six times their body weight in blood in one single meal, and a feeding meal can last between three to 10 minutes (the average is five to six minutes)."
Another thing to look for is small blood spots on your sheets usually caused by you rolling over and smashing the bed bugs. The flat, wingless bugs are tiny (about 3/8 to 1/4 inch), so while you can see it, chances are you won't feel it.
Next, inspect your mattress, box spring and bed frame, as well as the rest of the room. That's right, bed bugs aren't just in your bed, they also like to hide in wall cavities, picture frames, dressers and night stands.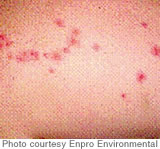 Bed bug bites
"Bed bugs like to stay close to where their hosts are," explains Duzan. "They can also feed on cats, dogs, rodents and birds. And having multiple hosts makes it difficult in treating them. The good thing is that bed bugs do not transfer any diseases."
And if you aren't grossed out by now, another sign of the bed bugs is their dried feces, usually concentrated on the mattress and little crevices.
So, how do bed bugs end up in your bed? Easy, they come in uninvited, hitchhiking on your luggage and clothes.
"One misconception of bed bugs is that you have them because you're dirty," says Duzan. "But that's not the case. Bed bugs are excellent travellers. You can wash your sheets all the time and still have bed bugs.
"They've been found in airplanes, boats, trains, buses and lots of communal places like movie theatres, dorms and naval bases."
According to Duzan, bed bugs travel upward in the pipe chases and wall cavities. They also like to travel in large buildings, so if they're in one room, chances are they're in neighboring rooms too.
How to treat bed bugs depends on the severity of the infestation. Call a trained pest management professional to assess your situation. "Depending on how bad the infestation is you can go with a chemical treatment or the alternative method which we've been more involved with, which is heat treatment," says Duzan.
"Heat treatment jobs usually take less than eight hours and are effective on a number of insects. We've been involved with a couple of cases for bed bugs, and we've also had a few proposals to use heat treatment to use on other pests, in particular termites."
In next week's On The Move: Something that lives on everyone and everywhere - dust mites.
Most Recent Comment(s):