Body Acne

By
.(JavaScript must be enabled to view this email address)
Friday - October 20, 2006
|
Share
Del.icio.us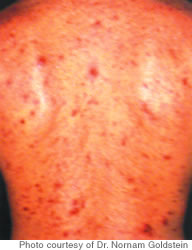 Body acne on the back of an athlete
Is your sweat causing your skin to break out in areas other than your face?
Body acne - usually found on people's arms and back - is a common sight at the gym or any sporting activity. But why? The answer is simple: extra heat, extra sweat and some physical stress.
"Acne has nothing to do with what you're eating or drinking," says Dr. Norman Goldstein, a dermatologist and critical professor of dermatology at the John A. Burns School of Medicine at the University of Hawaii. "It has nothing to do with chocolate or pizza. Acne is caused by heat and humidity, hormones, and it's hereditary - you inherit the skin that you have. Also, stress and not just mental stress, but physical, physiological and mental."
Physical stress comes from exercising - whether running or lifting weights - and when you're exercising, your body produces extra sweat which can irritate the skin.
"Your body also produces extra oil known as sebum, and that is the oil in the skin that's the cause of the blackheads, whiteheads and pimples," adds Goldstein. "Not everybody who works out gets acne. People with a hereditary disposition may get it. And people who do body lifting competitions sometimes put oil on their skin just before the competition, and you don't want to add oil to your skin, it just makes it worse."
He also points out that body acne may be a side effect of steroid use.
According to Goldstein, here are some ways to treat body acne:
* Keep your skin dry and slightly peeling. Do not use moisturizers, it'll make it worse. "Moisturizers do not prevent wrinkles," he says. "People get wrinkles because of sunshine."
* Purchase over-the-counter acne soap and gel containing benzoyl peroxide. Goldstein recommends 5 percent for women and 10 percent for men. "If it still exists or gets worse, see your family doctor or dermatologist," says Goldstein. "Sometimes antibiotics by mouth may be necessary."
* Shower immediately after working out and use a loofah.
* Wear breathable clothing when exercising, anything with an open weave or open fiber.
* If you have body acne, do not use sunscreen that is greasy.
* While it's a good idea to wipe down workout equipment before and after use, you don't have to worry about transferring acne to or from someone. Acne is not contagious.
* And if you must wear makeup when working out, Goldstein says to make sure it's not moisturizing makeup because that will add oil to the skin. He suggests testing your makeup by rubbing some on to a brown paper bag, then turn the paper bag over and if you see oil stains coming through it, then don't use it.
"One other thing I think readers should know is that a little bit of sunshine is actually good for acne," notes Goldstein. "Don't be out there very long, but if you want to go out there for a swim or surf, the sun actually dries up your oil glands."
In next week's On The Move: the strawberry nose, more commonly known as blackheads and whiteheads.
Most Recent Comment(s):