Bodysurfing Beauty

By
.(JavaScript must be enabled to view this email address)
Friday - July 14, 2006
|
Share
Del.icio.us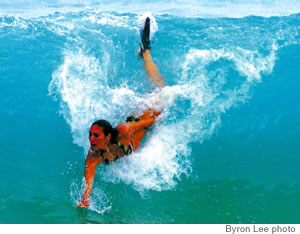 Hannah Thomas catches a wave at Sandy Beach's
dangerous shorebreak
Looking at the bodysurfing photo (at right) you'd probably never guess that the girl dropping in at Sandy Beach's dangerous shorebreak is beauty queen Hannah Thomas.
That is, unless you know Thomas, whose dad, Robert, was a bodysurfing world champion in 1986 at Pipeline.
"I started bodysurfing in seventh grade because Sandy Beach is really close to my house and my dad has been bodysurfing his whole life," says Thomas, 17. "Bodysurfing is kind of in our blood. My whole family does it.
All of my siblings (one brother and three sisters), we're pretty much water babies."
Thomas competed in last weekend's Sandy Beach Bodysurfing Championships, taking third in the women's 17 and over division, and second in the handboarding women's open.
Now she's busy preparing for the upcoming Miss Teen USA pageant to be held in Palm Springs, Calif., on Aug. 15 and scheduled to air live on NBC.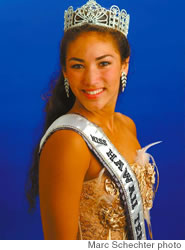 Miss Hawaii Teen USA
Before winning the Miss Hawaii Teen USA title last March, Thomas had worn heels just four times before the pageant. Now the statuesque tomboy will be donning a gown and heels on national TV.
"I entered the pageant because I wanted to try something new," says Thomas. "I've wanted to do it since I was little, but people would tell me, 'You can't do it, you have too many kakios (scars and scratches) on your legs.'
"Then three weeks before the Miss Hawaii Teen USA, my Auntie Brenda from church suggested that I enter, so I did."
Standing 5-feet-8-inches tall, and weighing 127 pounds, Thomas is a mix of Hawaiian, Filipino, Caucasian and "one drop Cherokee Indian."
This fall, she will be a senior at Kamehameha Schools, where she is on the kayaking, water polo and swimming teams.
"In training for Miss Teen USA, the dieting has definitely been the hardest part," admits Thomas, who has been working out with personal trainer Matt Jones three times a week. "I already bodysurf and surf, so I'm active. And usually if the waves are junk I just put on my fins and swim at the beach, or run up and down the beach.
"But your diet is really what keeps you where you need to be, and I just need to remember that it's a competition. If cutting my diet for one month will help me with this opportunity of a lifetime, then I'll do it."
In addition to her bodysurfing skills, Thomas is also a talented singer. She's a member of the Waialae Baptist Church choir, where she sometimes will sing a solo. And she's performed a few times with reggae band Ihzzhi. She also plays the guitar, and writes and sings her own music.
"At Miss Teen USA, I plan to just be myself," says Thomas. "There are so many wonderful people in the world, and I know that God has a plan for everyone."
The last time Miss Hawaii Teen USA became Miss Teen USA was in 1985 with Kelly Hu, who went on to become a successful Hollywood actress. More recently, local actress/model Sonya Balmores was first runner-up in the 2004 Miss Teen USA pageant.
Most Recent Comment(s):