Bone Health

By
.(JavaScript must be enabled to view this email address)
Friday - May 12, 2006
|
Share
Del.icio.us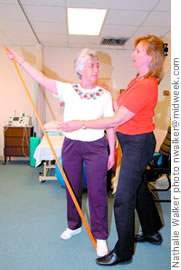 Physical therapist Lucy Lessard
(right) assists Ruth Nugent with
a resistance band exercise in
prevention of osteoporosis
In 2010, according to the National Osteoporosis Foundation, it is projected that approximately 205,800 people in Hawaii will be at risk for osteoporosis - a disease that is treatable but not curable.
So in an effort to educate the community on bone health and osteoporosis prevention, St. Francis Medical Center is hosting a free Osteoporosis Fair this Saturday (May 13) from 9 a.m. to noon in the Harry & Jeanette Weinberg Outpatient Pavilion, fifth floor.
Osteoporosis is a disease characterized by low bone mass in which the bones become fragile and prone to fracture. These fractures occur most often in the hip, spine and wrist. Women are four times more likely to develop the disease, but men also suffer from it.
"Often times people do not have any symptoms, and the first symptom would be a bone fracture from an accident or a spontaneous fracture," says Dr. Genevieve Ley, who specializes in internal medicine with a focus
on preventive medicine and women's health at St. Francis Medical Center. "Women and men with osteoporosis are at risk for having fractures in their hips, and a common sign of osteoporosis would be shrinking because you lose bone mass in your spine. Sometimes you see people who are curved up or have what we call a widow's hump, and that's a common manifestation of the thinning of the bone in the spine. And
when you do have the thinning of the bone, say in the spine, you can have chronic back pain."
The Osteoporosis Fair is open to the public and will feature free bone density screenings, medical lectures, a group interactive bone-building exercise session, nutrition presentation, cooking demonstration, and refreshments.
To prevent osteoporosis and increase bone health, the National Osteoporosis Foundation recommends:
1) Get your daily recommended amounts of calcium and vitamin D. Depending on a person's age, an appropriate calcium intake is 1,000 to 1,300 mg a day. National nutrition surveys have found that many women and young girls consume less than half the recommended amount of calcium to grow and maintain healthy bones. A recommended intake of 400 to 800 IU per day of Vitamin D is needed for the body to absorb calcium. Vitamin D comes from direct exposure to sunlight and from a diet that includes dairy products, egg yolks, saltwater fish and liver.
2) Engage in regular weight-bearing exercise, such as walking, dancing, jogging, stair climbing, racquet sports and hiking. A person who has exercised regularly in childhood and adolescence is more likely to reach his or her peak bone density than someone who has been inactive.
3) Avoid smoking and excessive alcohol and caffeine.
4) Talk to your healthcare provider about bone health.
5) Have a bone density test and take medications when appropriate. A bone density test measures the density of bone mass and is the only way to diagnose osteoporosis and determine one's risk for future fracture.
"When we're younger we need to keep active to build up as much bone mass, so that as we get older we have a greater bone mass to begin losing," advises Ley. "Also, even as women who are post menopausal we need to continue to be active and do weight bearing exercises, walk and just keep active."
For details on the Osteoporosis Fair, call 547-6410.
Most Recent Comment(s):