Boot Camp With '2 Crazy Wahines'

By
.(JavaScript must be enabled to view this email address)
Friday - August 18, 2010
|
Share
Del.icio.us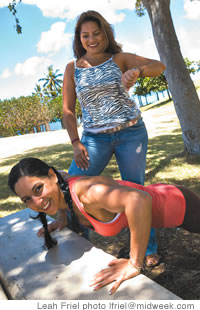 Lee-Ann Watanabe (standing) and Nicky Perry
Lee-Ann Watanabe and Nicky Perry are two crazy wahine on a mission to get you "looking hotter, leaner and tighter than ever."
The two self-proclaimed gym rats met a year ago at the gym, of course, and instantly clicked.
From there they created the 2 Crazy Wahines Fitness Bootcamp, a four-week fitness program for men and women of all ages and fitness levels.
"We realized that we are both kind of fanatical about working out and fitness," says Watanabe, a 1995 graduate of Castle High School. "I'm a fitness instructor, she's a personal trainer, and we decided to team up and provide this total body workout for people."
There are two different boot camps: the Kick-Butt Bootcamp ($150), a three-day-a-week intensive program that takes place Monday, Wednesday and Friday mornings from 6 to 7; and the Basic Bootcamp ($130), a two-day-a-week "teaser" bootcamp on Wednesday and Friday evenings from 6 to 7.
"We run four weeks on and one week off, and each workout is done at a different location and the locations rotate every month," explains Watanabe. "Also, every workout is total body that combines cardiovascular, resistance and core exercises. And we provide all the equipment, so our members just show up."
Erin Lee, a 48-year-old litigation paralegal/office manager, has been attending the 2 Crazy Wahines Fitness Bootcamp since it started last September and believes it has helped to improve her overall health.
"I think I lost, after the first month, 3.5 percent body fat," she recalls. "But definitely I'm stronger, my endurance is much greater and my strength training has definitely been significant with me. I'm just physically stronger than I was before and more comfortable with it.
"Mentally, it's made me much more confident. I'm not afraid to try new things. They challenge you without any humiliation or embarrassment and they have captured a group of people who are absolutely nurturing."
Watanabe, a fitness instructor for the last 10 years, was not always the fitness guru she is today.
A former couch potato, who at 5 feet 3 inches tall weighed only four pounds less than her 6-foot-4-inch husband at one time, knew that things were "out of control and took baby steps in creating positive changes in both her nutrition and exercise regimens."
She started working out to get into shape and after several years transformed into a "tried and true cardio addict ...
"I took this spin class and it totally kicked my butt," she remembers. "I couldn't finish it, but I was so determined, so I kept going back and I discovered that I really enjoy bicycling, and then I took that outdoors and started doing triathlons."
Perry, who has been an athlete all her life playing various sports including track and field, basketball and softball, took that competitive energy with her after high school and changed it to a six-day-a-week habit at the gym.
She eventually became a certified personal trainer and, at 33, says she's in the best shape of her life.
"Our goal with the boot-camp is we want to be able to promote to people that working out doesn't have to be just this torturous, dreaded situation or event," says Watanabe. "When you get together in a group, it can be fun working out. It doesn't always have to be something you don't look forward to."
As an incentive to really challenge themselves, participants are measured on the first day of boot camp, and at the end of the four-week cycle the person who loses the most inches and body fat gets a 50 percent discount off their next boot camp.
There also are monthly promotions. This month, the "2 Crazy Wahine" are offering a one-time drop-in special for people who aren't sure if this boot camp is for them. They can try the first week for $10 per class without having to commit to a month.
For more information, visit 2crazywahines.com or Nickyperryfitness.com.
Most Recent Comment(s):