Born With No Ears, Niko Now Hears

By
.(JavaScript must be enabled to view this email address)
Friday - January 27, 2010
|
Share
Del.icio.us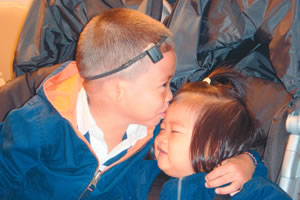 Niko (before the surgery) with sister Taylor
Nancy and Lance Soma are reaching the end of a long journey in fixing ear deformities for their son Nicholas "Niko," and now they want to give back to the community by offering a free event Jan. 31 featuring Dr. Granger Wong of the UC Davis Health System, who will talk about reconstructive surgery for patients with Microtia (congenital ear deformity).
Niko, 6, was born with deformed outer ears and no ear canals. He needed to use a headband hearing aid, which gave him about 50 percent of normal hearing, and the family's health insurance would not consider covering surgical reconstruction of his ears until he was at least 7 years old.
Dad Lance, a controller at a private school (Nancy is a nurse), admits he had a difficult time accepting the situation at first, but he never gave up in making things better for Niko - and fast. After a lot of research, he found two doctors in California (Dr. Joseph Roberson and Dr. Sheryl Lewin) who could correct Niko's ears using an artificial material called medpor, and the first surgery was performed when Niko turned 3. Now a first-grader at Pearl City Highlands Elementary, Niko has been on the Honor Roll for two semesters in addition to receiving the Citizenship Award. So far, Niko has had three surgeries with one more to go to fix a detached ear drum.
The entire surgical process cost about $200,000. Through fundraisers, the family was able to raise about $50,000 to $60,000. The rest has been out-of-pocket.
"Niko would be a totally different child if we waited until he was 7-years-old to have these surgeries," says Lance. "It really united our family as one, as we all tried to decide what was best for Niko.
"People (kids and adults) can be very cruel and very judgmental, and they make comments when they look at Niko's ears. But the friends that we have gained in the process are priceless and we couldn't have asked for anything more.
"Everybody is born different and special, and this experience really gave us a greater appreciation for children and their individual uniqueness."
Niko, who now has about 75 percent normal hearing, is described as a fun-loving, rambunctious, outgoing and a really kind-hearted child. He plays baseball, ukulele and dances hula. He has two sisters, 2-year-old Taylor and 9-month-old Kailee.
In an effort to help others with a hearing impairment, the Somas created the Wish To Hear Foundation, which provides information and services such as social groups, sign language and speech therapy classes, as well as scholarships and grants.
"We just want to give back to the community that so generously gave to us and to help people be aware that surgery is an option because through our journey we heard that a lot of people for whatever reason chose not to do the surgery or choose to wait until much later," explains Lance. " So, it's just providing that resource to people because that is something we never had."
The Jan. 31 event takes place in the Kapiolani Hospital for Women and Children auditorium from noon to 2 p.m. Wong, the featured speaker, who was not involved in Niko's surgeries, specializes in reconstructive, plastic surgery by harvesting rib graft as opposed to using medpor and applying virtual-reality computer software and minimally invasive endoscopic surgery.
For more information, call 382-7662.
Most Recent Comment(s):