Bottling Hawaii

By
.(JavaScript must be enabled to view this email address)
Friday - November 18, 2005
|
Share
Del.icio.us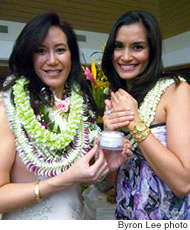 Nadyne Orona and former Miss
Universe Brook Lee
Experience Hawaii in a bottle with the newly released Pure Hapa skin care collection.
"It's a luxurious Hawaiian/Asian bath and body skin care line to promote anti-aging and anti-oxidant benefits to the skin," says Pure Hapa founder/creator Nadyne Keala Orona. "It all started about this time last year at Hulope Beach at Manele Bay on Lanai. I was sitting on the beach and contemplating about what I wanted to do in the second part of my life. I'm an empty-nester and retired from the high-tech world, and have thought about starting my own skin care company for a while. I started to think about the things I learned from my grandmother, Nancy Trask Naukana. She was from another time that truly valued the fruits, plants and herbs from the aina and sea.
"Also from my dad, who had lung cancer due to smoking and exposure to asbestos on the ship he worked on as a merchant seaman. He would buy all the Asian herbs, such as ginseng and ginger, and come up with his own recipe to offset his cancer treatment. The doctors were amazed that he was in remission for 12-plus years.
"And my mother and grand-aunt were also influential in telling me all the natural ingredients from Hawaii. In fact, poi is a good pore cleansing mask, but my mother said we can't use poi on the skin when there is a huge shortage already on the island and it should be used solely as a food staple."
From there, Orona got in the kitchen and started experimenting with ingredients such as macadamia nut oil, noni, papaya extracts, azuki bean powder and pineapple extract.
In June, her idea became reality as the exotic mixologist finalized her own custom formulations, hired a California chemist and released Pure Hapa.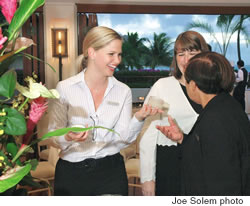 Former Miss Hawaii Erika Kauffman, Amy
Hennessey and Bunny Look enjoy Pure Hapa's
Hanalei Sweet & Sour Sugarcane Scrub
The current product line includes a Sweet Papaya Facial Exfoliant with azuki bean powder, papaya enzymes, jojoba beads and macadamia nut oil ($21), Hanalei Sweet & Sour Sugarcane Body Scrub with brown sugar, pineapple, and macadamia nut oil ($12 and $24), Hawaiian Essential Facial Serum with noni fruit extract, ginseng, green tea, grape seed oil, chamomile, and vitamins A, C and E ($28), Sweet Pineapple Sugar Cream with shea butter, macadamia nut oil, and pro vita-mins B5 and vitamin E ($12 and $23), Haupia Orange Souffle Body Cream with a sweet orange essential oil blend, chamomile and papaya extracts ($11 and $22), and Travel Soy Wax Candle Sets in juicy mango/creamy coconut, coconut lemongrass, and green tea/jas-mine ($7).
"The Pure Hapa products are made of very high quality ingredients, and it smells very nice," says Brook Lee, former Miss Hawaii USA who went on to become Miss Universe. "I identify a lot with the fragrances, and being away from the Islands I get homesick, so it's like Hawaii in a bottle."
In just a few months, Pure Hapa has found its way to store shelves and homes around the island. And even in Hollywood.
The Pure Hapa Hawaiian Essential Facial Serum was pictured in recent issues of Us magazine, including a feature noting that "Mariska Hargitay (Law &
Order:SVU) and Marcia Cross (Desperate Housewives) love these healing potions and lotions blended with Hawaiian botanicals and fruits."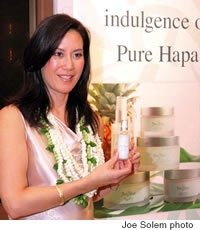 Nadyne Keala Orona displays the Pure
Hapa Hawaiian Essential Facial Serum
"From this experience, I learned just how much I miss my elders," says Orona, who turns 50 in February. "And the teachings of our kupuna, which are understanding the land and making sure we use the ingredients of our aina and promoting Hawaii. We have such great fruits and plants here, and I don't think people understand the powerfulness of the antioxidants and anti-aging ingredients of Hawaii."
Pure Hapa products can be used by men and women of all skin types. The brand's logo features a pineapple to represent the Pineapple Island of Lanai, where Orona has a second home. And the name, Pure Hapa, is a tribute to Orona's multi-ethnic background.
"I was born and raised in San Francisco, but Hawaiian style," says Orona. "My grandmother and grandaunt lived with us and I was eating poi, fish, green onion at six-months old. People were so surprised back then how we got our poi - my parents would buy it at a Japanese store in J-Town called Sakai store."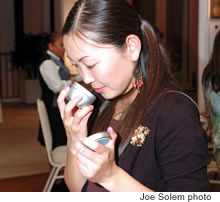 A member of the Japanese press takes a
whiff of a Pure Hapa soy wax candle
As the list of Pure Hapa devotees continues to grow, so does the product line. Orona is already in the mix of developing new products for men and babies, as well as body wash, soaps and bath salts. She also plans to utilize her grandmother's favorite Hawaiian lei fragrances - pakalana and puakenikeni.
"I'm also establishing Pure Hapa Keiki Foundation at the end of this year to raise awareness and help the children at the Queen Liliuokalani Children's Center," says Orona. "I worked as a volunteer teacher's aide at the Queen Center when I graduated from high school in 1973. My Hawaiian family, especially my grandmother, was a strong believer in giving back to the community."
On Oahu, Pure Hapa is available at Blush at Kahala Mall, Ihilani Spa, NeoPlaza in Waikiki, Moku Ola in Koko Marina, Body & Nails by Jennifer on Vineyard Boulevard, Kahala Mandarin Spa Suites, and online at http://www.purehapa.com
Most Recent Comment(s):