Bowling For A Really 'Big' Cause

By
.(JavaScript must be enabled to view this email address)
Friday - August 05, 2009
|
Share
Del.icio.us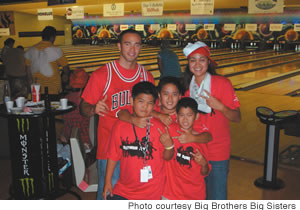 (front) Jordan Viernes, Joshua "Kaleo" Akau and Caleb Akau with Austin Oney and Pume Preza at last year's Bowl For Kids' Sake
I have an older brother who, despite the countless fights and disagreements we've had, I know I can count on for pretty much anything.
I also am very fortunate to have been raised by a mother and father who were hard workers and always wanted the best of everything for us.
Not everyone is so lucky. Thanks to organizations such as Big Brothers Big Sisters (BBBS), however, children age 6 to 18 who are missing that much-needed friend or role model in their life can be matched up with one.
"My mom was going through a divorce and moved us from Nebraska to Hawaii and I had a hard time dealing with being separated from my dad," recalls Dennis Brown, the first "Little Brother of Hawaii" in 1964 now serving as executive director for Big Brothers Big Sisters of Honolulu (BBBSH). "Emotionally, I didn't understand why it had to be this way and why we had to move so far away. I became angry at the world and gave my mom a hard time. I wasn't happy with anything and wasn't good at school."
Brown's mother sought help from a counseling program for kids, and it just so happened that the counselor at the time became the case worker for the new Big Brothers chapter that was forming in Honolulu.
From there, Brown was matched with Henry Sumida, a civil engineer in his late 20s. Brown was not looking forward to the new partnership, but looking back now he says that relationship helped him become a happier kid.
The mission of BBBSH is to help children become responsible adults by matching them in professionally supported one-toone relationships with volunteer mentors who create a positive, lasting impact simply by sharing their friendship, guidance and support.
Today, Big Brothers Big Sisters of Honolulu serves about 800 to 900 children. On Saturday (Aug. 8), the organization will host its Bowl for Kids' Sake event at Aiea Bowl from 9 a.m. to midnight, a signature fundraising event of Big Brothers Big Sisters across the country.
"My big brother Henry, one of the first activities he took me to was bowling, and it's one of the things we encourage matches to do because it's really conducive to that kind of thing, a big brother/sister teaching a little brother/sister," says Brown. "Also, it's a fun family-oriented activity, and the way we raise money is by people collecting pledges.
"Plus, bowling is an active activity that boys and girls, young and old, can do."
For more information, visit www.bigshonolulu.org or call 695-4568.
Most Recent Comment(s):