Breast Cancer Can Strike Anyone

By
.(JavaScript must be enabled to view this email address)
Friday - October 12, 2011
|
Share
Del.icio.us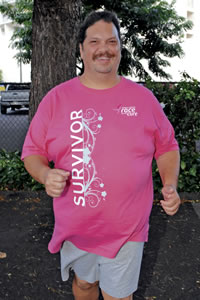 Breast cancer survivor Mark Vasconcellos. Nathalie Walker photo

.(JavaScript must be enabled to view this email address)
More than 7,000 runners and walkers are expected at Kapiolani Park on the morning of Sunday, Oct. 16, for the Susan G. Komen Hawaii Race for the Cure, including many cancer survivors.
Breast cancer is the most common cancer among women in Hawaii with approximately 860 cases of female invasive breast cancer diagnosed in the state each year, according to the Susan G. Komen Hawaii affiliate. However, it also occurs in men.
Mark Vasconcellos, who was diagnosed with breast cancer in 2005, hopes to raise awareness of the fact that this disease is not "gender specific."
"I was in shock when the doctor told us it was breast cancer," recalls Vasconcellos, a 1985 graduate of Kalani High School. "I was devastated. But I got through it with a lot of support from family and good friends. Today, I'm six years cancer-free and stoked."
It all started when Vasconcellos went to the doctor for a chest cold. After three weeks, including two rounds of antibiotics and cold medicine, he was still coughing, couldn't swallow, and was experiencing a shortness of breath and mucus in his chest.
So, his doctor sent him for X-rays, and that's when they found a mass on the left side of his chest. After some tests, he received six treatments of chemotherapy spread out over about six months followed by four weeks of radiation.
"Having cancer, it actually changed my life to the point where I'm not ashamed to let people know about it," adds Vasconcellos, who works in reservations for a rental car company. "Physically, I feel 100 percent ecstatic, full of energy. I control the cancer, it does not control me, and I'm gonna do whatever I can to prevent it from coming back."
In addition to the Susan G. Komen Hawaii Race for the Cure, Vasconcellos also participates in other charity walks and events. He even completed the last three Honolulu Marathons.
He also tries to maintain a healthy lifestyle by watching his blood pressure and cholesterol levels, taking vitamins and eating healthy.
You can still sign up for the 17th annual Susan G. Komen Hawaii Race for the Cure online or at the on-site registration/packet pickup at Ward Warehouse through Oct. 15.
Race day registration is also available from 5 to 6:45 a.m. The 5K race/walk starts at 7 a.m. followed by a 1-mile fun run at 7:15.
Approximately 75 percent of proceeds will fund breast cancer education, screening and treatment programs in Hawaii.
For more information, visit komenhawaii.org.
Most Recent Comment(s):