Breathe With Ease

By
.(JavaScript must be enabled to view this email address)
Friday - May 07, 2005
|
Share
Del.icio.us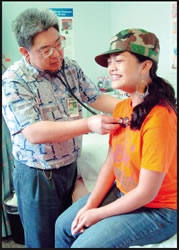 Dr. Jeffrey Kam performs a routine
check-up on asthma patient
Cheesa Laureta
My first realization of the seriousness of asthma was as a teenager reading an article on the sudden passing of one of my favorite supermodels.
Krissy Taylor (younger sister of Niki Taylor) died in 1995 from an "acute asthmatic attack, complicated by unproven cardiac arrhythmia." Although later, according to a website created by her family, studies of tissue slides from her heart uncovered evidence of a rare heart disease called right ventricular dysplasia, which is what they believe was the major cause of death.
Whether Krissy's death was asthma-related or not, the fact is people do die from it. And Hawaii's asthma mortality rate is actually higher than the national average.
The latest figures show that 26,000 children and 54,000 adults in Hawaii have asthma, a condition where people have a difficulty breathing because of restricted airways. But with proper management, they can lead healthy and active lives.
As part of Asthma Awareness Month, Straub Clinic & Hospital has assembled a team of health professionals for a free public informational meeting, Breathe With Ease, to be held Saturday (May 7) at the Renaissance Ilikai Waikiki Hotel from 9 a.m. to 12:30 p.m.
"It's important for people to understand asthma because it impacts one's quality of life, meaning that a lot of people, instead of aggressively treating their asthma, they'll change their lifestyle," says Dr. Jeffrey Kam, program chairman and asthma and allergy specialist at Straub. "So a child may not participate in certain sports or an adult may not go travelling because they're scared of their asthma flaring. But the whole purpose of getting on the right treatment plan is to be able to do everything you want to do.
"Also, asthma, if not treated aggressively, can lead to irreversible lung damage down the line. So you can actually get emphysema from asthma even though you never smoked a cigarette, in some cases.
"Another point is that you can die from asthma."
Siblings Troy and Cheesa Laureta of Ewa Beach are living proof that asthma can be controlled through proper care. They both have a long list of medications to take daily, including Allegra-D, Singulair, Advair, Nasonex, Prednisone, Biaxin, plus Nebulizing treatments.
And Troy, who has a more severe case of asthma than Cheesa, has recently added Xolair to his therapy, a new medication which is injected into both arms every two to three weeks.
"I've had asthma since I was born because I was born premature," explains Troy, a junior at Punahou School. "My asthma was actually way worse when I was little. I always had to go to the emergency room and to the hospital, but now I'm going to Dr. Kam, and he gives me medication to help stabilize it.
"I want people to know how serious it is. I used to have a lot of people say, 'Oh asthma, it's not like you can't walk or anything, so it can't be that serious.' But I think people need to know what people with asthma are going through, especially teachers, because I used to have teachers who didn't really understand asthma so they would try to make their own solution how to deal with kids with asthma."
Growing up, Cheesa witnessed some of the battles her brother had with asthma. Then, when she turned 10, she found out that she too has asthma.
"I probably always had it, but my mom was kind of busy with my brother's asthma because his is worse, so we didn't realize that I had it until later," says Cheesa, who attends St. Francis. "What happened was I got sick, and the doctors didn't think it was a cold, but they didn't know what it was. And then we found out it was asthma."
With the support of their family, Troy and Cheesa try their best to control their asthma while not letting it affect their lives. Their motto: Get over it. They believe that asthma is just a part of life, and that you just have to deal with it and focus your time on more positive things, which for them, ironically, is singing.
The pair, also known as A2C, are booked with performances almost every weekend and plan to release an album early next year. Mom Tenie says she's extremely proud of her two children for their positive outlook on life, their music and, oh by the way, they're A students in school.
"One of the biggest misconceptions about asthma is that people think you can't do strenuous activity, but you can do all of that as long as you know how to control your asthma," says Troy. "And another misconception is that we're weak, but we're not. We're normal.
"I've heard stories of people dying from asthma attacks and just the statistics of people dying, but I know I can overcome it. But that's probably the scariest thing, just thinking that I could be one of the statistics."
Registration for Saturday's free clinic begins at 8:30 a.m. Topics of discussion include symptoms, and triggers and treatments that can help allergy and asthma sufferers breathe easier.
Attendees will also have the opportunity to view demonstrations and exhibits and participate in free screenings, including lung function tests to measure breathing capacity, and tests that measure carbon monoxide levels in smokers or those exposed to secondhand smoke. And while supplies last, Straub will also give out free respirators (masks) to people who suffer from pulmonary diseases.
For more information or to register, call the Straub Foundation at 524-6755. Advance reservations are recommended due to limited seating.
.(JavaScript must be enabled to view this email address)
Most Recent Comment(s):
Commenting is not available in this weblog entry.