Bye Bye, Love Handles

By
.(JavaScript must be enabled to view this email address)
Friday - August 20, 2005
|
Share
Del.icio.us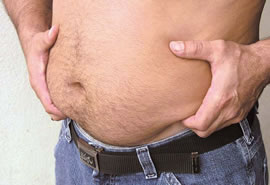 Love handles: Unsightly and unlovely
They're called love handles, but what's so lovely about them?
It's extra fat that widens your waist, bulges through your shirt and hangs over your pants. It's really not a pretty sight and it's really hard to get rid of.
"Love handles are fat and there's no way to tone or strengthen fat; you can lose it only through diet and calorieburning exercises such as running, biking and swimming," explains Kimo Kockelman, fitness trainer and owner of Hardass Fitness. "And you don't have to be overweight to have love handles. People store body fat differently, and you don't have a choice where the body stores it. It's genetics."
Saying goodbye to those unlovely love handles is easy. To actually get rid of them is not.
Start by taking your measurements and then set a goal. Wrap a tape measure around your waist using the widest point of your love handles, and record your measurement. Then figure out your body fat percentage.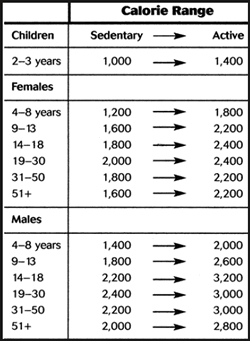 Estimated daily calorie needs according to the USDA
It's also good to track your progress by keeping a journal of your diet and exercises.
"To lose one pound of fat is 3,500 calories, so to lose two pounds in a week you need a 7,000 calorie deficit a week," explains Kockelman. "Diet is the key. To lose body fat you need to burn more calories than you consume. Eighty percent of any kind of fat loss is from diet and the other 20 percent is from exercise."
So, we know to lose fat you need to use more calories than you take in, but how many calories should you consume in the first place?
At left is a chart from the U.S. Department of Agriculture that gives an estimate of individual calorie needs based on a person's sex, age and activity level. It's also available online at www.mypyramid.gov. The site also provides sample menus and food intake patterns.
Now that you've got an idea on what your diet plan should look like, start exercising. But remember, 300 sit-ups a day won't get rid of those love handles.

Calorie burning exercises such as
spinning, says Kimo Kockelman, can
help you lose unwanted love handles
"All resistance training is for muscle, so when you think about fat you can't tone or strengthen fat," says Kockelman.
"You can target muscle, but not fat. Midsection exercises like side bends, sit-ups and body twists will not get rid of love handles. But those exercises are important to do for strengthening and toning muscle of the midsection."
It's been reported that Janet Jackson works on her famous washboard abs only 10 to 15 minutes a day, three times a week. However, she works out with her trainer one to two hours a day, five or six days a week.
Her workouts include boxing, basketball, tennis, snowboarding and hitting balls in a batting cage. And her favorite ab exercise is hanging upside down from a bar and lifting her body from her midsection.
So, eat right and burn those love handles away. For more fitness tips, visit www.hardassfitness.com
Most Recent Comment(s):