Cancer Causes: Truth And Myth

By
.(JavaScript must be enabled to view this email address)
Friday - March 14, 2007
|
Share
Del.icio.us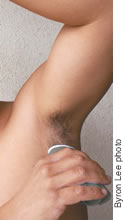 Not a cancer risk —
whew!
First it was my cell phone, then it was my deodorant, and now it's disposable wooden chopsticks.
That's it. I've had enough.
It seems like a daily thing where someone tells me I shouldn't use this or that because it'll increase my risk of getting cancer.
But my deodorant? I really don't think my friends would appreciate me without underarm sweat protection. So what's real and what's a myth?
1) Using deodorant can increase cancer risk: false.
Despite articles in the press and on the Internet warning that underarm antiperspirants or deodorants cause breast cancer, researchers at the National Cancer Institute (NCI) "are not aware of any conclusive evidence linking the use of underarm antiperspirants or deodorants and the subsequent development of breast cancer."
The U.S. Food and Drug Administration (FDA) also has no evidence or research data showing that ingredients in underarm antiperspirants or deodorants cause cancer.
2) Using wooden chopsticks can increase cancer risk: false.
I've heard this from a few people and some Internet websites have posted warnings that disposable wooden chopsticks contain carcinogens created through the process of preserving and bleaching the materials.
There is, however, currently no report available in the American Cancer Society or NCI database proving this to be true.
3) Microwaving your food in plastic containers can increase cancer risk: false.
According to the FDA, substances used to make plastics can leach into foods, but the levels expected to migrate into foods are well within the margin of safety.
4) Household bug spray can increase cancer risk: false.
According to the ACS, the consensus of available evidence does not suggest a link between household use of pesticides and cancer. That said, the safety of insecticides and herbicides is a very legitimate concern, especially for agricultural workers.
The ACS also notes that many kinds of pesticides are widely used in agriculture for the production of our food supply, and that high doses of some of these chemicals have been shown to cause cancer in animals. But the very low concentrations found in some foods have not been associated with increased cancer risk.
5) Eating meat cooked on a charcoal grill can increase cancer risk: true!
Yes, you can increase your cancer risk by eating too much grilled red meat or chicken, or even meat pan-fried at a very high temperature.
According to the ACS, meat or chicken that is well-done or burnt appears to be the most problematic. They recommend for people to enjoy grilled meats occasionally, but not on a regular basis in order to limit your exposure to carcinogens.
Then there are heterocyclic amines (HAs), which are chemicals created during grilling, broiling or even searing meat in a very hot frying pan.
Research shows that HAs cause cancer in animals, however, it is uncertain whether the amounts encountered on grilled meat actually increase cancer risk in people. The ACS suggests:
* Don't eat blackened or burnt parts.
* Precook meats in the oven or microwave, and then finish on the grill for just a few minutes
* Substitute grilled vegetables or fruits for part of the meat in your meal. Many of the chemicals created when meat is grilled are not formed during the grilling of vegetables or fruits. Try onions, green and red bell peppers, zucchini, broccoli, carrots, potatoes, pineapple, papaya and mango.
* Eat smaller portions of grilled meats.
6) Sunscreen can help prevent skin cancer: true.
The ACS claims that use of sun-screen on a daily basis is a good practice for reducing skin cancer risk. However, it needs to be reap-plied, and even then it only provides a certain amount of protection.
To protect yourself from the sun, choose a sunscreen with a sun protection factor (SPF) of 15 or higher, limit sun exposure (avoid the sun from 10 a.m. to 4 p.m when the UV rays are strongest), and wear a hat that shades the face, neck and ears,
7) Early lifestyle choices can cause cancer: true.
Yes, the lifestyle choices you make as a young adult can increase your risk of developing cancer, particularly the use of tobacco.
Other critical lifestyle choices include your diet, the amount of physical activity you get, alcohol consumption and your exposure to the sun.
According to the ACS, more than two-thirds of all fatal cancer cases can be prevented with simple lifestyle changes, such as exercising regularly, maintaining a healthy body weight, using sun protection, not smoking, and eating lots of fruits, vegetables and whole grains.
8) Cell phones can cause cancer in the people who use them: split.
Some scientific studies, lawsuits and news headlines have suggested a link between cell phones and cancer, particularly brain cancer.
The NCI notes that numerous national studies do not show any link between cell phone use and cancer, however, the NCI cautions that more research needs to be done. Areas to consider include possible effects of long-term, heavy use of cell phones and potential difference between analog and digital technologies.
The FDA suggests limiting cell phone use and switching to a hands-free headset.
9) Air pollution can increase cancer risk: true!
According to the ACS, dirty air does contribute to lung cancer risk, but has a greater impact on heart disease, asthma and chronic bronchitis.
A study co-authored by C. Arden Pope III, PhD at Brigham Young University, and published in the Journal of the American Medical Association, showed that air pollution - mainly from vehicles, industry and power plants - raises the chance of lung cancer and heart disease in people exposed to it long term.
For more information on cancer causes and risks, call the NCI at 1-800-4-CANCER or visit http://www.cancer.gov
Most Recent Comment(s):