Catching A Yoga Wave With Ballard

By
.(JavaScript must be enabled to view this email address)
Friday - May 27, 2009
|
Share
Del.icio.us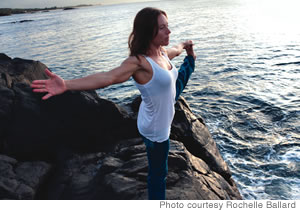 Professional surfer Rochelle Ballard practices yoga while watching the surf
Lululemon athletica at Ala Moana Center hosts professional surfer Rochelle Ballard as she celebrates the release of her new DVD this month, Surf Into Yoga.
"Physically, I'm 38 and I'm fit and I feel great," says Ballard on what yoga has done for her body. "Your muscles lengthen from yoga and they keep that elasticity from it. It's like lubing your joints. It also keeps you youthful ,and your energy is higher."
Ballard, who is no longer competing full-time on the world championship tour, is excited about this new direction in her life - inspiring people through the connection of surfing and yoga.
"As a surfer, what yoga did for me was ground me and center me," says Ballard. "The year I was going for the world title in 2004, waking up early in the morning, the first thing I would do is yoga. When you go into the competition, you get anxious and nervous. But if I practice yoga before, even for just 15 minutes, it would calm everything inside of me and I could focus my energy.
"That's what yoga does, when you're focusing on your breath, you can filter everything else out and I believe that's what makes the best competitors, when they can focus their attention and energy."
Ballard has been doing yoga since she was 19. If she's not surfing or doing yoga on her own, you might find her at Jasmine Yoga in Waialua or at Paul Smith's yoga class at Waimea Valley.
Her brother, professional snowboarder Hoku Gordines, also is a yoga instructor and is featured in her new DVD.
"There are just so many health benefits to yoga," she says. "If I have a long day of surfing or I'm stressed out, instead of going straight to a massage or an adjustment or getting sick, if I do yoga I feel fine.
"Whether it's a class for an hour or just spending five minutes in that quiet, still place doing some breathing and centering yourself - yoga isn't just stretching, it's meditation and appreciation for your body and the world that exists around you.
"Yoga means unity, so it also helps you with letting go of judgement and honoring yourself and the world around you."
The event at lululemon athletica takes place Saturday, May 30 with a yoga demonstration led by Ballard and Mara J. Pikes at Ala Moana Centerstage beginning at noon, followed by an in-store yoga class at 1 p.m. (limited to 25 people).
Ballard also will be selling her Surf Into Yoga DVDs and signing autographs at lululemon athletica starting at 1:50 p.m.
For more information or to register for the in-store class, call 946-7220.
Most Recent Comment(s):