Chasing After The Big Bananas

By
.(JavaScript must be enabled to view this email address)
Friday - April 23, 2008
|
Share
Del.icio.us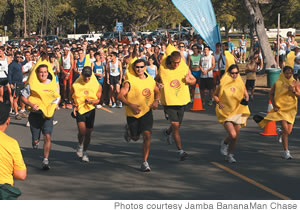 The Jamba Juice Banana Men and Women set the pace at last year's race
University of Hawaii football associate head coach Rich Miano gets paid to train a winning Warrior team. Off the clock, he works to improve the athletic performance of children through the non-profit organization Hawaii Speed and Quickness, which he started with UH strength coach Mel DeLaura in 2000.
The organization's mission is to provide any child with access to exceptional sports training and mentoring to maximize personal success and healthy living in life regardless of geographic, financial or demographic circumstance.
Although aimed for students, adults also can participate in the sports clinics.
"We do everything from ladder drills, cone drills, plyometrics (exercises in which the muscles are stretched and then quickly contracted), resistance training, parachute running, pull chains, as well as this new equipment we have called Vertimax, which is a jumping machine," says Miano, a graduate of Kaiser High School who went on to play three years for UH before being drafted in the sixth round by the New York Jets in 1985, and enjoyed an 11-year career in the NFL. "We do a number of things to have an athlete become linear (straight ahead speed), change direction faster and jump higher."
The 2008 spring/summer series of speed and quickness clinics started this month and goes on through July 27.
Each session runs about an hour and a half and takes place at the UH athletic complex. Cost is $10.
"We have kids as young as 5 years old to college athletes, from both genders and of all sports," says Miano. "We also have a lot of student-athletes who give anti-drug and positive social messages, so they not only get a good workout but also tremendous mentoring and a good message."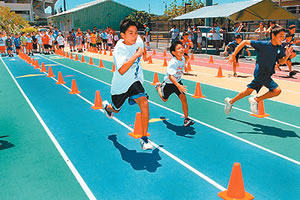 Young athletes sprint at the Speed and Quickness class
On May 10, the Hawaii Speed and Quickness crew, including Miano and DeLaura, will demonstrate some of their speed and agility drills at the Jamba Juice 5K BananaMan Chase at Magic Island. The race starts at 7 a.m. and is a benefit for MDA Hawaii and Hawaii Speed & Quickness.
The event also features a 500 meter Keiki Dash, free Jamba Juice smoothies, prize giveaways and bouncers for the keiki.
The first three male and first three female runners to pass the Jamba bananas and cross the finish line receive Jamba Juice for a year (26 free 16-ounce smooth-ie coupons). And the first, second and third place finishers in each male and female age division (12 and under, 13-15, 16-19, 20-29, 30-39, 40-49, 50-59, 60-69, 70-plus) also receive Jamba Juice for a year.
Entry fee is $30 before May 2 or $35 on race day (between 5:30 and 6 a.m.) and includes a T-shirt and a free 16-ounce Jamba Juice smoothie coupon.
Entry for the Keiki 500 meter dash is $10 and includes a T-shirt and medal. To register, visit www.active.com or pick up an application at any Jamba Juice Hawaii location (excluding UH Manoa).
For more information on Hawaii Speed and Quickness, visit www.hawaiispeedandquickness.com
Most Recent Comment(s):