Choosing The Perfect Surfboard

By
.(JavaScript must be enabled to view this email address)
Friday - August 13, 2008
|
Share
Del.icio.us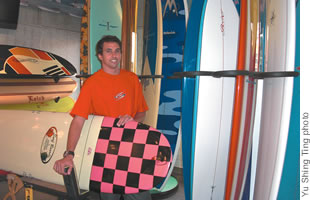 Eric Wehner, retail manager and sales rep for Surftech, at the new Surftech retail showroom on Queen Street
Whether you're a veteran, recreational or beginner surfer, the type of board you paddle out with in the water can make all the difference on how your day will be.
But how do you know which board is the right board for you? There are so many different shapes and sizes to choose from. In my opinion, there really isn't a better way than by trying it first.
And now you can do just that at the new Surftech retail showroom and warehouse at 945 Queen St.
Surftech offers hundreds of boards for surfing, skim boarding, standup paddling or kite-boarding. But what makes the company unique is its Techlite EPS core, which is lighter and stronger than your ordinary surf-board.
In addition to being able to test the product in the water before you buy it, Surftech also offers numerous demo programs to help you make the perfect selection.
"We can make that offer because of the amazing construction that makes our boards the toughest, lightest, most responsive surfboards in the world," says manager Steve Cranston. "Also, our EPS foam features fused cells and a waterproof core which means open dings will not suck in water."
Another advantage of Surftech is its ability to recreate masterpieces by the thousands from some of the best shapers in the world, such as Dick Brewer, John Carper, Donald Takayama, Town & Country, Rusty and Stretch.
"Some 60-plus legendary shapers now sell their best designs through Surftech," says Cranston. "Usually, boards are built by hand, shaped by the shaper with polyurethane foam, then coated with fiberglass and resin. But after all that work, even the best shapers often can't predict how their boards will perform in the water. Surftech's precision reproduction has revolutionized the world of surfing in that you know what you are getting and you can get another one like it!"
In addition to endorsements by many top surfers, including Shane Dorian, Laird Hamilton, Mikala Jones and Joel Tudor, Surftech also supplies the boards for Hawaii Water Safety Professionals, including city lifeguards and fire rescue.
They also are a major contributor to the entry-level surf schools and rental concessionaires around the state.
Surftech surfboards have been in Hawaii for the last 10 years and are available at about 20 top surf retailers around the islands.
The new Queen Street warehouse (which relocated from Pearl City) serves as the company's first retail showroom/service center in the country.
"The primary focus of our showroom is to educate people on Surftech," says Cranston. "Randy French founded Surftech in 1989 and spent more than 18 years combining his love of surfing with advances in science and created a tougher type of epoxy resin that makes Surftech boards nearly indestructible.
"In comparison (to regular surfboards), Surftech boards are about one-third lighter and stronger."
In next week's On The Move, I'll visit Surftech for my first standup paddling adventure. From selecting a board that's right for me to technique and etiquette, I finally get to experience this new watersport craze.
Most Recent Comment(s):