Cockett Turns To Coaching, Camps

By
.(JavaScript must be enabled to view this email address)
Friday - March 16, 2011
|
Share
Del.icio.us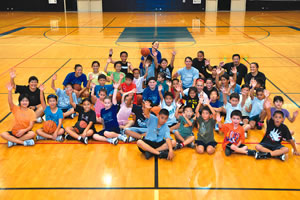 Who's having fun? Everybody at Nani Cockett's D.One basketball camp
Former University of Hawaii basketball star Nani Cockett aims to pass down her knowledge of the game to Island keiki through her D.One Basketball Kids Camp held in the spring and fall.
Open to boys and girls ages 5 to 12, these camps are for children of all skill levels, even those who have never played before.
"We welcome everybody," says Cockett, a 1993 graduate of Kamehameha Schools. "We want to teach them that the game is fun, so they want to play more and explore more throughout the years."
Undoubtedly one of the best basketball players in UH Rainbow Wahine Basketball history, Cockett went on to play professionally in Israel and Switzerland before coming back to the U.S. to try out for the L.A. Sparks in the WNBA, where she made the reserve team. From there, she went back overseas to play in Greece before returning home and starting D.One Basketball Inc.
"I knew it was time to give something back to the kids of Hawaii," says Cockett of her reasons for doing the camps. "And I had the right group of people with me who all wanted to give back to Hawaii through basketball.
"We also do a basketball camp for high school girls, so they can hopefully experience the same successes we had in basketball. We all had scholarships at our different schools, and we want to see more girls get their education paid for."
Other former collegiate players who serve as "counselors" at these camps include Catherine Cho (UH 2006-2009), Aritta Lane (2001 Aiea graduate, played at Fresno State), Shanna-Lei Dacanay (2005 Punahou graduate, played at Washington University at St. Louis), Tiana Fuertes (1996 Iolani graduate, played at University of Utah), Amy Mahlum (played at University of North Dakota) and Summer Aona (1996 Campbell graduate, played at Lassen Community College).
Cockett's dad Clay also assists, as does cousin Brandy Richardson (2001 Kalaheo graduate, played at UC-Santa Barbara), Dottie Nahale, Michelle Andrade, Carey Won and Kyla Evers (UH 1997-2000), who helps organize the events.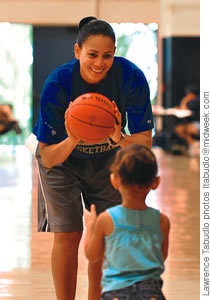 Nani Cockett passes the ball to Chloe Law
"Our camp counselors are not only teaching basketball, they're also there for anything the kids may need help with," adds Cockett. "They're teaching life skills, and sometimes the girls will come up and just want to talk story."
There certainly is no shortage of talent at these camps, but finding an empty gym can sometimes be difficult.
Luckily for Cockett, her alma mater came into play with Bob Ramsey and Luann Bento from Kamehameha Schools' recreation department allowing use of its Kekuhaupio Gym. Cockett also works at the school as the Kaahumanu Fitness Center coordinator.
Next for D.One is a three-week blast camp starting April 3 and open to high school girls age 13 to 18. Cost is $60 per person, $50 per person with a team of five or more people; and all participants receive an athletic shirt.
"This is gonna be an intense competition camp," explains Cockett. "It'll still focus on the fundamentals, but it's gonna be an intense 2-and-a-half hours for three Sundays."
After that, it's the Women's NCAA summer league, which is open to current and former college players, high school seniors who want to play in college, and women who think they can play at the college-level. Cost is $80 and includes a jersey to keep.
Then, it's the Fall Kid's Camp, which meets on Sundays for six weeks. For more information or to register for any of these basketball camps, e-mail .(JavaScript must be enabled to view this email address).
Most Recent Comment(s):