Cooking Healthy

By
.(JavaScript must be enabled to view this email address)
Friday - May 13, 2005
|
Share
Del.icio.us
Learn to cook like a pro while doing your body good. The talented chefs at the Kahala Mandarin Oriental Hawaii have introduced a new cooking series, including classes on healthy cooking.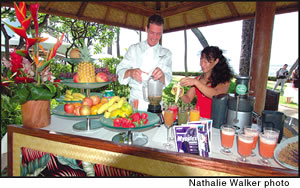 Executive sous chef Milan Drager and recreation
manager Spring Chang whip up a healthy smoothie
"Healthy cooking has to be good tasting, it has to be fairly quick (to prepare) and it has to be innovative," says executive sous chef Milan Drager. "We will teach things like buckwheat pancakes, smoothies, healthy wraps and homemade power bars, as well as whole dinners and desserts."
The Kahala resort started its culinary academy in January, offering hotel guests and kamaaina the opportunity to learn gastronomic secrets first-hand fromprofessional chefs.
The classes are offered individually or as a series, and are held every Saturday at Hoku's, the resort's signature restaurant, from 11 a.m. to 2 p.m. About 20 to 40 people have been attending each class, which range from $65 to $125 per person. Discounted rates are available for purchasing an entire series.
The Healthy Choices classes are led by Drager and recreation manager Spring Chang. Chang, a six-time world champion powerlifter, heads the resort's Chi Fitness Center.
"Nutrition plays as one of the most important roles in your fitness regimen," says Chang. "If you're exercising and not eating properly it may defeat the whole purpose.
"I will not be teaching any types of cooking techniques, but I will be available to discuss the benefits of the various meals in regard to your workout. I will emphasize the importance of nutrition to your new or old fitness regimen and how to make a successful meal plan for the day or week based on your daily schedule."
According to Chang, a good before-workout snack is one with complex carbohydrates, and for after a workout, choose something with protein.
"Complex carbs will help you utilize your energy more efficiently as opposed to eating something too sweet with loads of sugar," she explains. "After your workout, try eating something with some protein in it so that your muscle can be replenished. Muscles are made of protein."
Some classes are demonstration classes where the chefs will prepare a complete menu or selection of dishes, give detailed explanations throughout preparation and presentation, and then provide students with recipes, instructions, and a tasting at the end of each class. In the hands-on classes, each student is provided with their own workstation.
"More and more people are getting into health and fitness," adds Drager. "They don't want to just eat and hope it's good for them. They want to know what's in their food."
For reservations or more information, call 739-8780.

Spring Chang's tips to better eating habits:
-Stock your kitchen with healthy foods and snacks, and get rid of all the junk food
-Always carry a bottle of water wherever you go. Keep one in your car, at work and keep a glass of water next to your bed so the first thing you do is drink water.
-Try to eat some kind of fresh greens every day.
Here's a simply healthy recipe courtesy of Milan Drager:
Citrus Ricotta Stuffed Figs Servings: 6
12 medium-sized ripe fresh figs
1 cup low-fat ricotta cheese
6 tablespoons honey
1 teaspoon grated lemon peel
1 teaspoon grated orange peel
3/4 teaspoon vanilla
2 tablespoons chopped pistachio nuts or other nuts
Remove stem ends from figs and cut each in half lengthwise. Combine ricotta, honey, lemon peel, orange peel and vanilla in small bowl until well blended. Serve figs with ricotta mixture. Garnish with chopped nuts.
Healthy Choices classes:
May 21 ($115, hands on)
Healthy Choices — Breakfast
Menu: protein shakes and juices, buckwheat pancakes, and eggwhite and vegetable frittata
June 18 ($115, hands on)
Healthy Choices — Lunch
Menu: soba noodles with pan-fried onaga and pesto sauce, homemade power bars
July 16 ($75, demo)
Healthy Choices — Dinner and Dessert
Menu: beef carpaccio, arugula salad, seared tofu with vegetable napoleon, soy vinaigrette, Japanese salsa, mango soup and sorbet
August 6 ($75, demo)
Cooking For Keiki-creating healthy, tasty food your kids will love
Menu: smoothies, homemade hot pockets and snacks, healthy pizza, fruit jellies
Also available:
July 2 ($75, demo)
Summer Barbecue Ideas
Menu: baby back ribs, vegetable skewers, seafood lau lau, three-cabbage slaw, twice-baked potatoes
July 9 ($75, demo)
Plumeria's Way: Fresh, Seasonal, Simple
Menu: Fresh mushroom salad, "ono" pot roast, barbecued meatloaf
*The Kahala Culinary Academy also offers a Party Planning series, a Masterchef series, and a Baking Workshop.
Most Recent Comment(s):
Commenting is not available in this weblog entry.