Cool Shoes, But What About The Feet?

By
.(JavaScript must be enabled to view this email address)
Friday - June 10, 2009
|
Share
Del.icio.us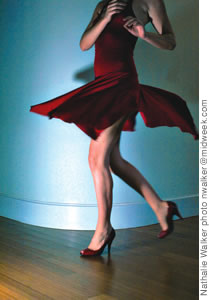 Higher heels are fine for a few hours out in the evening
People often ask me how I can walk in my super high heels. Being on the "shorter side," I've been wearing heels since high school and I think my feet and legs have just become used to it.
For the most part, I don't have a problem with it. OK, sometimes it can be uncomfortable. But the more important question is what does wearing high heels do to our feet?
"Wearing a half-inch to 2-inch heel in moderation can actually help a lot of foot problems because it helps support the arch a little bit," shares Dr. Greg Morris, a podiatrist and board certified foot and ankle surgeon at The Queen's Medical Center. "But if it's a higher heel, such as a higher stiletto heel, you're a little more unstable so you're more at risk for spraining your ankle.
"Also, if you're in high heels for a long time, your achilles and calf muscles can tighten up over time. You're also putting more pressure on the ball of your foot and that extensive pressure can aggravate conditions such as bunions and hammer toes, and can cause conditions such as metatarsalgia and neuroma."
Ideally, the best thing we can do for our feet is to wear a good pair of walking or running shoe with some kind of arch support to it. But sometimes that's just not an option. For example, if you're wearing a business suit or an elegant dress, running shoes just don't go.
"Once you get up to a heel that is above two inches, it's OK to do it for dressing up and going out for short periods of time, but day to day walking and standing for hours at a time is not a good thing," notes Morris. "The best thing to do is wear something that provides good cushioning and good support. When you're walking barefoot you're getting no support and no cushioning. And with heels you're not sharing the weight evenly across the foot.
"Over the last five years, men's and women's dress shoes have greatly improved. In the old days, especially men's dress shoes were made with hard leather soles, which is awful for the feet. Now, they have rubber soles and have more support to them."
If you're going to wear heels for a long period of time, Morris suggests doing calf stretches a couple of times a day.
When shopping for shoes, Morris says shoes shouldn't need to be broken in, so make sure it fits right or don't get it.
Also, if you get a lot of swelling in your feet, shop in the afternoon rather than in the morning. And don't go by just fashion, but also comfort.
"Any shoe, if it doesn't fit properly can cause blisters, callouses and corns," says Morris. "The most common foot problem is plantar fasciitis or heel spurs which is commonly caused by exercising (doing too much too soon) and standing all day long with your feet in poorly supported shoes.
"And with high heels, the common problems are hammer toes and bunions. Bunions and hammer toes mostly form by themselves but by jamming them into shoes makes them much worse because it forces the toes in the wrong direction. And if you continue aggravating them, it can be painful and you may need surgery to correct them."
Yes, there are people who will still shop for shoes based on looks, but how pretty can a shoe be with blisters, corns, callouses, hammer toes and bunions popping out?
Most Recent Comment(s):