Cutty's Keiki Fitness Challenge

By
.(JavaScript must be enabled to view this email address)
Friday - April 11, 2007
|
Share
Del.icio.us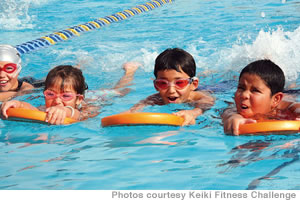 Swimming is fun, and good exercise
Cutty of the nationally syndicated Hawaii-based television series Cookin'With Cutty and the West Hawaii Community Health Center are challenging island keiki to get into better health.
From now through April 30, children ages 8 to 16 and their families can sign up for Cutty's Keiki Fitness Challenge.
Registration is free, and the first 800 keiki to sign up will receive a 'Keiki Get Fit' Backpack filled with fitness goodies, including a booklet of health information, an exercise and nutrition program, and log book.
To register, download a form and fitness log at www.keikifitnesschallenge.com. Next, visit any of the 13 community health centers statewide to obtain a fitness assessment. (On Oahu: KalihiPalama Health Center, Waianae Coast Comprehensive Health Center, Waikiki Health Center, and the Waimanalo Health Center).
Participants will be tested for strength, endurance, flexibility, body mass, body fat, blood pressure and other key health indexes to create a baseline from which to measure improvement.
Then they'll embark on the Challenge, incorporating exercise and nutrition tips provided by the program, and keep track of their activity in their fitness log.
Participants will have three months from the date of registration to complete the challenge. When they're finished, they will return to the health center for a final assessment.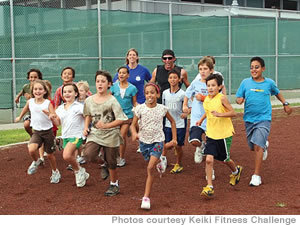 TV's Cutty jogs with kdis
Those who finish with the greatest increase in their "Cutty Health Index" will be eligible to win cash, prizes, scholarships, a TV commercial appearance and much more.
"The purpose of this challenge is simple - we want to make Hawaii a healthier place to live now and in the future by raising awareness in kids and parents about the connection between good health (through proper nutrition and exercise) and success in many aspects of life," says Cutty. "We want to inspire and challenge kids to be better citizens by being healthier tomorrow than they are today regardless of their current condition."
According to a 2005 Youth Risk Behavior Survey by the Centers for Disease Control, 28 percent of Hawaii high school students were either overweight or at risk for becoming overweight, 62 percent did not attend physical education classes, 72 percent did not meet recommended levels of physical activity, and 81 percent ate fruits and vegetables less than five times a day.
According to Richard Taaffe, executive director of the West Hawaii Community Health Center, there are a variety of causes of obesity, but most are behavioral, and only a small percentage is hereditary.
"The most obvious is over-eating, which is when you take in more calories than you burn," says Taaffe. "And lack of exercise is another cause - the sedentary lifestyle of many people contributes greatly to being over-weight and obese.
"There are also some medical conditions that are linked to obesity - typically these are metabolic disorders such as thyroid diseases. And certain medications can also stimulate a person's appetite; some psychiatric medications can have this impact."
As for the solution to obesity, Taaffe lists diet and exercise.
"People who are overweight or obese need to make lifestyle changes," he says. "It is not easy, but there is no magic pill. Diet medications are available but most are very risky and result in significant side-effects, including major health conditions."
Cutty adds that it's also important for parents to set a good example. "Our children learn many things from observing our behavior and choices," he says. "Participate with them in activities, and it will form a stronger bond. Inspire them when they need it, and praise them when they accomplish a new goal."
Most Recent Comment(s):