What A Sweet Deal For Diabetics

By
.(JavaScript must be enabled to view this email address)
Friday - October 15, 2008
|
Share
Del.icio.us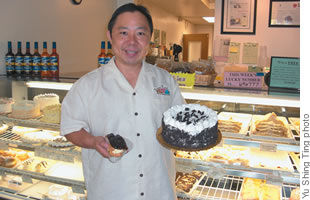 Darin Yokoyama at Sweet Nothings
At age 9, Darin Yokoyama was diagnosed with Type 1 diabetes and could no longer eat sweets.
That is until now. Yes, he's still diabetic, but gets to enjoy his favorite desserts through his sugar-free bakery, Sweet Nothings, near Ala Moana.
The business celebrates its two-year anniversary this month and plans to open a second location near Kapolei in 2009.
"We had just moved to Los Angeles and during our first week there I felt really tired and I was really thirsty, and we thought it must be something about the new environment," remembers Yokoyama about how he learned he had diabetes. "I was drinking literally gallons of water or juice and constantly going to the bathroom. Then, after about a week, I went to the doctor and he was, like, you have to go to the ER right now.
"So we went to the children's hospital and that's when I got diagnosed with diabetes. At that time, there wasn't really a lot of urgency with diabetes and we really didn't know anything about it. It was really scary. I thought I was going to die."
Through proper care and education, Yokoyama learned how to take care of himself and treat his diabetes.
"It was very stressful," he says. "And as a kid it was hard. I would go to birthday parties and everyone's digging into the cake and I'd be sitting off on the side. Eventually I learned to not like sweets because I couldn't have any."
Then, during a trip to Las Vegas, Yokoyama walked into a store and could not believe his eyes - everything was sugar-free.
"I used to travel a lot, and when I decided to come back to Hawaii four years ago I learned of the prevalence of diabetes in Hawaii and that there's not many options for us," he says. "I was working in the high-tech industry and was wanting to change careers. So I went from selling multi-million dollar software to selling $1.95 muffins."
According to the state Department of Health's Diabetes Prevention and Control Program, an estimated 72,000 to 100,000 people in Hawaii currently have diabetes. Yokoyama says his bakery offers sugar-free pastries and desserts for not just diabetics, but also for people who are looking for healthier options.
At Sweet Nothings, the No. 1 selling item is eclairs, which feature a very high-quality dark chocolate and Bavarian cream.
"It's very light and tasty, and not too sweet," says Yokoyama, a 1984 graduate of Punahou School. "Everything is made fresh daily. Also, presentation is very important, and our prices are very competitive."
Cakes start at $14.50, pies at $9.99, pastries at $1.65 and eclairs are $2.95.
Wedding cakes and sugar-free chocolates also are available.
Sweet Nothings is located at 1218 Waimanu St. For more information, call 593-1234.
Most Recent Comment(s):