Developing A Healthy Lifestyle

By
.(JavaScript must be enabled to view this email address)
Friday - May 04, 2011
|
Share
Del.icio.us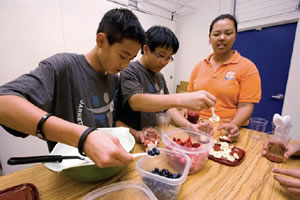 Kenzy Kobayashi and Freddie Ng of Jarrett Middle School with Maria Quidez, program leader for After-School All-Stars Hawaii. Leah Friel photo

.(JavaScript must be enabled to view this email address)
Through a $1,000 grant from UnitedHealthcare of Hawaii, students at Jarrett Middle School's Kulia After-School All-Stars have been working on producing a healthy eating cooking show and lesson plan.
For the last couple of months, they've been doing research on healthy eating, obesity and the importance of overall fitness; and they recently presented a video and mini cooking demonstration to children at near-by Palolo Elementary School.
"This grant surely provided, first of all, an opportunity for the kids to think about giving back to the community," says Megan Grimshaw, After-School All-Stars Hawaii site coordinator at Jarrett. "Before we even applied for the grant, the students came up with the whole plan for the project, and it was really neat to see them go through the process from the very beginning.
"We just told them here's an opportunity, what do you guys want to do and they really took the lead on it."
There are about 65 students in Jarrett's Kulia After-School All-Stars, which is part of After-School All-Stars Hawaii, a quality after-school program for young people who need a safe, supervised educational environment from 3 to 6 p.m.
UnitedHealthcare of Hawaii also provided a $1,000 grant to Kaaawa Elementary School for its "Family First" project to teach students and parents the value and importance of developing healthy eating and lifestyle habits.
Teachers will develop a common health curriculum, including health themes for each month, and conduct workshops for parents and the community. The project also will include a one-year subscription to Nutrition Nuggets, a national health and wellness newsletter with updated information and ideas on ways families can make healthier choices.
A $500 grant also was awarded to Making Dreams Come True, Valley of the Rainbows in Waianae for a "Teen Challenge" project which will help educate high school students from Waianae, Nanakuli and Kapolei about a healthy lifestyle, as well as provide diet and programs addressing childhood obesity.
According to UnitedHealth, its HEROES program is especially important in Hawaii, where approximately 28.5 percent of children ages 10 to 17 are considered obese or overweight (U.S. Department of Health and Human Services data). Nationally, approximately one in three children is considered obese or over-weight, putting them on the road to lifelong chronic conditions such as diabetes and heart disease.
Also, according to America's Health Rankings, if left unchecked or untreated, obesity will affect 43 percent of adults by 2018 and will add nearly $344 billion in that year alone to the nation's annual direct health care costs, accounting for more than 21 percent of health care spending.
Most Recent Comment(s):