Diabetes Denial

By
.(JavaScript must be enabled to view this email address)
Friday - March 12, 2005
|
Share
Del.icio.us
This column is dedicated to my dear friend Daniel Aldover, whose diabetes may have played a role in his passing from heart failure at age 33 last December, and to Honolulu DJ Wili Moku, whom I had the pleasure of interviewing before his death in January 2004.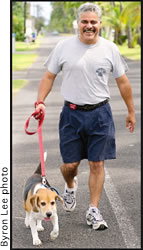 Bo Irvine and his buddy Dundee
Six years ago, Bo Irvine was given the worst news he's ever had:You have diabetes.
Now, the local comedian lives to tell how those three words have changed his life.
"How I found out was I thought I had a cold," recalls Irvine. "I was feeling sick and I didn't know why. I was getting sicker and I thought I had the flu, so I treated my flu symptoms by drinking lots of fluid. And instead of taking vitamin C, I combined my fluids with it and drank orange juice. But orange juice wasn't good because it's full of sugar."
When his vision went blurry, Irvine went to the doctor. From there he was referred to endocrinologist Dr. Laurie Tom, who made the diagnosis.
Since then, Irvine has made it a commitment to help raise awareness of the disease which occurs when the body does not produce or properly use insulin that is needed to convert sugar, starches and other food into energy needed for daily life.
Diabetes is a serious health condition that can lead to blindness, heart failure, kidney failure and death.
Irvine has served as emcee at several fundraisers and represents organizations such as the American Diabetes Association of Hawaii as a speaker.
He also has a comedy routine called "Seriously…Living with Diabetes Can Be Funny."
Next on his schedule is walking in the sixth annual America's Walk for Diabetes March 19 at Kapiolani Park.
"Diabetes has made me more aware of what I eat and that I cannot be sedentary, I have to exercise," says Irvine. "When I first found out I had diabetes I would just walk and walk with my dog Dundee. There were times the dog would actually look at me and say, 'Hey, I don't have diabetes. Why am I walking?'"
Irvine continues to walk every night for about 45 minutes. He also hired personal trainer Kimo Kockelman of Hardass Fitness and works out with him twice a week. At 54, he's taking control of his diabetes with exercise, diet and medication. According to the ADA, the cause of diabetes is still a mystery, but both genetics and environmental factors such as obesity and lack of exercise appear to play roles.
"The tough part about being a diabetic is you want to eat the things you like," says Irvine. "I like rice. I grew up with rice. I had rice in the morning and rice at night. Now, I eat brown rice or I mix white rice with brown rice. And I eat it in moderation because rice is a starch and it turns into sugar.
"I remember when I found out I had diabetes I went down to Leonard's and bought malassadas because that's how depressed I was. I was going to show them that I wasn't a diabetic. I was in denial, and I refer to that in my talk — that denial is not a river in Egypt."
Denial is just one of the many emotions that diabetics go through. From there, they can also experience depression, anger and fear.
"I'm not going to lie to you; it gets frustrating, especially when I get home and I feel junk and tired because my blood sugar goes way high, and I have to lie down because I don't feel well," admits Irvine. "I get real mad. But I deal with it. I just understand that it's a disease that I have control over, but some days I don't.
"And when I was doing the insulin, I got real scared. There was a time when I was in the Mainland and I got real scared because my blood sugar started dropping really low."
Irvine monitors his blood sugar levels with a glucose tester, drawing blood from his finger and placing it on a strip that goes in the palm-size device.
"I use it in the morning and two hours after I eat," says Irvine. "So, it kind of gives me an idea of what the different foods do to me."
Irvine also uses the glucose test before and after he works out. And he's supposed to keep a daily log of what he eats and his blood sugar readings, which can be very time-consuming.
"Through this experience I learned that if I had to do life all over again, I would've paid more attention to my health," says Irvine. "Also, if there's a message I could tell people, it would be to check your family history and see if you're predisposed of any type of diabetes."
In loving memory of Daniel and Wili, and for Irvine and the 100,000 people with diabetes in Hawaii — I ask for your support in helping to find a cure for diabetes by taking part in the upcoming Walk for Diabetes. All money raised from the 2.3- mile walk will be used for diabetes research and public education.
Register on line at diabetes.org/walk, or by calling 947-5979.
"My goal for the rest of my life, and I hope it's a long time, is to use my humor to get the message out about diabetes," says Irvine, who works at Marine Corps Base Hawaii- Kaneohe Bay as the director of safety, at 105.9 The Big Kahuna as a radio personality, and at Sharkey's Comedy Club/Blue Tropix. "When I retire, that's going to be one of the things I do, besides my stand-up comedy, is to go out and speak to as many groups as I can about diabetes.
"I don't drink. I don't smoke. And I don't do drugs. Comedy is my high in life. And how I deal with stress is I make fun of it."

.(JavaScript must be enabled to view this email address)
Most Recent Comment(s):