Dining Out Tips

By
.(JavaScript must be enabled to view this email address)
Friday - September 15, 2006
|
Share
Del.icio.us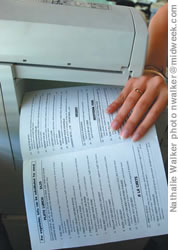 Ask restaurants to fax menus to
you
Anyone who knows me knows that I'm constantly on the go.
And anyone with a busy schedule knows how difficult it is to follow a healthy diet.
The majority of my meals - from morning to night - are swallowed in a hurry. Most are from fast-food restaurants, others are at lunch or dinner meetings or events.
In the last two years, I've gained 15 pounds, and even though I'm usually able to squeeze in a workout here and there, I know I need to do something about my food intake to lose the added weight.
"As a fitness trainer, I hear this statement many times, 'I eat out so often, that it is really hard to stay on track with my diet,'" says Kimo Kockelman, a certified fitness trainer and owner of Hardass Fitness. "And yes, I agree - it's challenging but not impossible."
So, if you're like me - a busy woman with no time to cook and it shows (at least to me it does) - follow these simple steps by Kockelman to help you stay on track when dining out:
1) Sneak-peek the menu.Ask the restaurant to fax their menu when making your reservations. Choose your dinner meal earlier in the day after you have eaten and are no longer hungry. This way, you can choose the meal with your mind instead of your growling stomach.
2) Push away the bread basket. This is not a "low-carb" suggestion, just a way to eliminate unnecessary calories. What goes on bread? Butter, crab dip, balsamic and oil. This pre-meal snacking can be expensive (to your diet that is), maybe at a 100-plus calories per piece.
3) Enjoy a salad or an appetizer as your main entree. In most cases you will leave the restaurant satisfied instead of stuffed.
4) Ask for dressings and sauces on the side. These seemingly harmless items can add as much as 1,000 calories to your meal. A tablespoon alone can be 75 to 140 calories. So, ordering these items on the side allows you to gain control.
5) Split/share your meal. This works well for couples who are both trying to be good on their diets. Most restaurants are OK with splitting the entree in the kitchen and bringing it out on separate plates.
6) Ask for a to-go container upfront. Ask the server to bring you a half-portion of your selected entree and to place the other half in a to-go container when ordering.
7) Avoid all-you-can-eat buffets. But if you should find yourself in line, start with fruits, vegetables and salads, and use the big dinner plate. Wait 10 minutes. Then select entree items using the small salad plate. And make only one trip each.
8) Skip dessert. If you must indulge, force yourself to eat only a portion. Experience the taste without the guilt.
9) Take your time. It takes 20 minutes for your stomach to tell your brain that you are full. So, sit back, relax and enjoy.
For more tips on fitness, visit www.hardassfitness.com
Most Recent Comment(s):