Doing Another Marathon At Age 91

By
.(JavaScript must be enabled to view this email address)
Friday - October 28, 2009
|
Share
Del.icio.us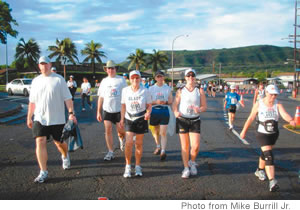 Glady Burrill (pictured above, second from left) will participate in her sixth marathon this December at age 91
This December, Glady Burrill will enter her sixth Honolulu Marathon at age 91, making her the oldest woman registered for the grueling 26.2-mile trek through Honolulu.
"Age is only a number," says Burrill, whose birthday is Nov. 23. "I don't think about how old I am. I just feel like I still have a lot of life to live.
"I see people much younger than me have health problems and it's sad to see. My overall health is good and I think a lot of it is because of my healthy lifestyle and attitude and trying to be positive. In these times, it's difficult for a lot of people to be positive, but it's so important."
Talking to Burrill is like talking to a 20-year-old girl. Her voice sounds young and full of energy. And she's always out and about.
"I walk every day pretty much," she says. "Today I just did six miles and yesterday I did 10 miles. About a month ago I did 18 miles and I just felt great at the end. I think I could've done a whole marathon."
Burrill decided to enter her first Honolulu Marathon in 2004 at age 86 after seeing the fireworks at the start of the event the year before. "It was so thrilling to me that I just thought, 'I'm going to have to do it next year,'" she recalls.
Well, she enjoyed it so much that she would enter every year since then and finished all but last year's event.
"Last year I made it to 24 miles," she explains. "I had gone through a lot of stress during the year. My husband Gene died last year and it took a lot out of me. So I'm going to try again this year. I'm recovered pretty much and I feel great this year.
"My favorite thing about the marathon is crossing the finish line. When you're coming up Diamond Head (toward the finish), a lot of people hit the wall. The first year especially, I wondered when was I going to hit the wall and all of a sudden I was at the top and starting down toward the finish line, and your adrenaline just really gets hiked up.
"And then the cheerleaders, the volunteers and spectators that greet us, they are amazing. They'll be out between Kahala and Hawaii Kai on our way out and on the way in and it just makes me want to cry. It's so precious."
Burrill's best finishing time for the Honolulu Marathon was 8 hours and 33 minutes. Her goal this year is to finish in 8 hours and 15 minutes.
The Honolulu Marathon is set for Dec. 13 at 5 a.m. Entry fee (for Hawaii residents) is $85 by Oct. 30, $115 by Nov. 13 and $225 by Dec. 12.
Last year, 20,061 runners and walkers crossed the finish line at Kapiolani Park. For more information, visit www.honolulumarathon.org.
Most Recent Comment(s):