Early Detection Is Key To Survival

By
.(JavaScript must be enabled to view this email address)
Friday - April 16, 2008
|
Share
Del.icio.us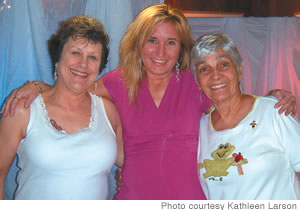 Kathleen Larson (center) with breast cancer survivors Nancy Miura and Tebby Black
Kathleen Larson is on a mission to tell everyone that "with early detection, you have a 96 percent survival rate from breast cancer."
"I became interested specifically with breast cancer when I found out that one of my cousins had passed away from breast cancer at 17," she explains. "This was 30 years ago on the Mainland, and it's just very rare for women to have breast cancer at that young of age, especially at that time because you weren't necessarily looking for it. Your body is still forming, but just this last year I met a survivor who is from Hawaii and she had breast cancer at 16. That's young and it's not very common, but it does occur."
In 2005, Larson launched On Board For A Cure, a TV program featuring breast cancer survivors and medical information on the disease. This year, the one-hour show airs April 23 on KHON-2 at 9 p.m. A new group of breast cancer survivors will be featured, as well as medical specialists from Kapiolani Women's Center and Clinical Laboratories.
"In spite of the major and significant advances in the treatment of breast cancer," says Dr. Jeffrey Killeen, breast pathologist for Kapiolani Breast Center, " the two most important factors that affect prognosis are the size of the tumor and how far it has spread when it is first diagnosed. Those two really critical factors can be positively influenced by early detection. In general, women over 50 should get a mammogram, but more and more women are going from the age of 40.
"For self-exams (which should be done monthly), they should start from menstruating on. And if they find anything that just doesn't seem like the normal changes in the cycle, then they should have a physician take a look at that.
"And it's the same thing for men. If there are any sort of abnormalities (in the chest area), whether it's discharge from the nipple, a lump or thickening of the skin, or if something just doesn't feel right, have it checked."
Yes, men can get breast cancer too, although the percentage of women affected is much higher.
"It's about 1,200 men a year as opposed to 200,000 women in a year in the U.S.," says Larson. "If you're a woman, you need to know that breast cancer is the No. 2 killer of women behind heart disease. And when you look at the other statistic, that with early detection you have more than a 95 percent survival rate, you need to know that your health is in your hands.
"Also, only 10 percent of breast cancer cases are genetic or hereditary. The other 90 percent are sporadic. So just because you think it runs in the family or not, you still need to get checked. And you can get the breast cancer gene passed through from not only your mother's side, but your father's side of the family as well."
A special screening of On Board For A Cure takes place April 20 at Honolulu Design Center from 5 to 7 p.m. Hear stories from survivors, learn how to do a self-exam, and get the latest medical information on breast cancer. Also, enjoy survivor photographs by James Anshutz Photography, a fashion show by Bonnie's Closet and light refreshments. Tickets cost $25. Call 780-6635 or log on to www.onboardforacure.com
Most Recent Comment(s):