Egan Returns To The Ring May 16

By
.(JavaScript must be enabled to view this email address)
Friday - March 19, 2008
|
Share
Del.icio.us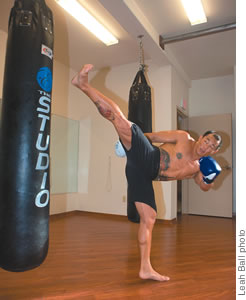 Egan Inoue, 42, last fought in December 2003
Hawaii mixed martial arts legend Egan Inoue returns to the fighting ring, headlining an all-star fight card Friday, May 16, at Neal Blaisdell Arena.
Inoue, who last fought in December 2003 and is now 42 years old, has signed an exclusive contract with X1 World Events, the promoter of the May event.
"I feel like I'm in a better place, mentally and physically," he says. "I've always kept training. And my boxing coaches tell me that I'm hitting better and moving better, and that my groundwork is better. Also, I feel that my transitions are better."
Inoue's fight record is 18 wins and six losses, with his last fight ending in a loss against Jason Miller.
"A lot of people would say to me that they wish they saw me before my last fight because it wasn't a planned retirement," says Inoue. "I left because I was injured. So now is their chance."
Inoue, who is a five-time Icon world champion, two-time world racquetball champion, two-time Brazilian jiu-jitsu champion and a two-time winner in Japan's PRIDE organization, admits to having had a lot of personal issues going on around the time of his earlier retirement, including a divorce and a highly publicized domestic abuse accusation from his ex-wife.
"This is one of the few times that I'm not worried about anything," says Inoue. "When I was accused of domestic abuse, it was on the news, and people would look at me. I was acquitted (of it), and I'm at peace with it now, even though I still hear it today.
"Also, I've recovered from my injuries. I have full custody of my three daughters (ages 4, 10 and 11). Business is great. And I have a great wife (Marcia). My whole environment is better. Everything has come together, and I have a lot of peace in myself."
Since his 2003 retirement, Inoue worked in pharmaceutical sales for five years, and opened The Studio (a training facility in Manoa Marketplace) while continuing to run Grappling Unlimited.
While his announcement of returning to the ring may be surprising to many, Inoue has actually been working with his former coaches to prepare for this fight for the past year.
"I think the guys today (in the mixed martial arts sport) have gotten a lot better and quicker," says Inoue. "Also, there's a lot more exposure, and the technology and training are better.
"I think, before, I was ahead of many of the fighters because of my racquetball background. Now, I feel I'm still ahead because I started The Studio and I haven't stopped training. Also, I started surfing two years ago and that has taken my core strength to another level.
"I feel my training is not behind. It's right where the top contenders are. Just my age is not there."
Inoue says his goal with his return is to do more than just one fight. But whether that will happen or not will depend on the outcome of his May 16 fight.
"I just want to see where I am in the ring, and to know that I am where I think I am," he says. "When I first retired from racquetball, I took a year off and when I went back, I knew immediately that I was done.
"Also, I think because of my school, The Studio, it's a mixed martial arts-type gym, so I don't want to teach something that doesn't work.
"And I'm hoping for a quick fight."
Inoue expects he will be matched up in the 180-pound, middleweight division.
Also scheduled for the ring May 16 are Ray "Bradda" Cooper, Chad "The Grinder" Reiner (who squares off against Brandon Wolff) and Tyson Nam, who faces Kana Hyatt. Inoue's opponent has not been announced yet.
Tickets start at $25 (discount available for children under 12 and military), and are available starting March 18 at the Neal Blaisdell ticket box office and at Ticketmaster outlets, including Times Supermarkets, and online at www.ticketmaster.com or by phone at 1-877-750-4400.
For more information, visit www.x1events.com
Most Recent Comment(s):