Exercising Your Facial Muscles

By
.(JavaScript must be enabled to view this email address)
Friday - June 22, 2011
|
Share
Del.icio.us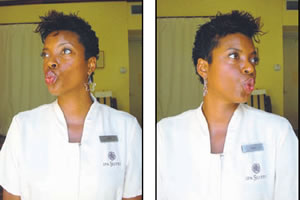 The "Satchmo": Fill your cheeks with air, and then push the air to alternating cheeks, fill each cheek 10 times, repeat motion three times
There are different exercises to work the many different parts of our body. But the one part that is the most looked at is often the part we forget to work out - our face.
If you didn't already know, there are exercises you can do to increase circulation and strengthen the facial muscles resulting in a healthier, more youthful look.
At The Kahala Spa located in The Kahala Hotel & Resort, esthetician Erica Williams recently introduced yoga facial to its menu of services.
The 90-minute treatment starts with yoga facial moves, followed by an acu-pressure facial massage to release unnecessary tension and return balance to your face.
"The yoga facial is designed to enhance tightening and toning," explains Williams. "It's like fitness for the body but fitness for the face.
"Exercises for the face is not a new concept. But we've done a little twist on it because the yoga facial we do was revolutionized by a teacher in New York I studied with. She noticed that certain poses enhance oxygen and blood flow to your face, and people seemed to have an anti-stress, smoothness and relaxed look about their face, which give them a youthful glow."
During the yoga facial, an esthetician coaches you through different facial poses, including exercises for the chin and neck area, which are usually a big concern for people. You also get to take home a handout with descriptions of 14 different exercises so you can continue to practice it at home.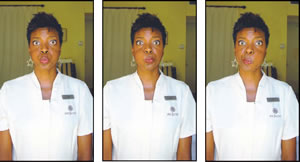 The "Marilyn Kisses": With a strong, firm pucker, give exaggerated air kisses to the left and right, repeat 10 times for each side. Yu Shing Ting photos
"Also, throughout the exercise we're constantly focusing on breathing, which enables us to oxygenate," adds Williams. "And the whole time we're going to keep our eyes wide open, so keep in mind you're gonna look crazy. In fact, the more insane and ridiculous you look the better.
"It can be quite challenging, but it's about learning to isolate those facial muscles and work them. And remember it's an exercise, which means you can get better and better."
Here, Williams shows us two simple facial exercises - the Satchmo and Marilyn Kisses.
My favorite, if you don't mind looking really crazy, is the Prom Queen: Open your mouth and smile as if you're laughing out loud, keep your eyes wide open with your forehead relaxed, hold for 5 to 10 seconds, repeat five times each.
The yoga facial at The Kahala Spa costs $280. A 15 percent discount is available for kamaaina.
For more information, call 739-8938.
Most Recent Comment(s):