Fighting Lupus

By
.(JavaScript must be enabled to view this email address)
Friday - November 17, 2006
|
Share
Del.icio.us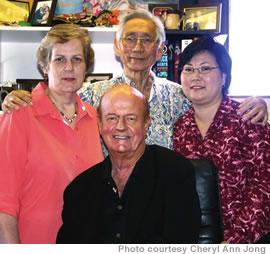 Linda Dullin, George Chun, Tom Moffatt and Chery Ann Jong
team up for Let's Dance 'neath the Holiday Moon, a benefit for
the Lupus Foundation, Hawaii Chapter
Recently, two of my friends were diagnosed with lupus - a widespread and chronic autoimmune disease that, for unknown reasons, causes the immune system to attack the body's own tissue and organs, including the joints, kidneys, heart, lungs, brain, blood and skin.
"There's no cure for lupus, and lupus affects every organ in your body," says Cheryl Ann Jong, president of the Lupus Foundation of America, Hawaii Chapter. "I was probably born with lupus, but I was not diagnosed until I was 20, which was part of the problem because it takes about four to seven years to diagnose.
"By that time, I had already lost part of my lung capacity, my heart was affected, I had three transiet aschemic attacks (TIA, or mini strokes), and arthritis. And on top of all of that I was in pain all the time and I had extreme fatigue."
Jong, who turns 40 next month, is also battling fibromyalgia and peripheral neuropathy (having permanently lost about 50 percent of feeling in her face, neck, arms, hands, legs and feet).
She says she is in pain daily and takes about 19 different medications, including multi-vitamins. She also has been on chemotherapy for over a year (as an experimental treatment), and last week had surgery for PFO closure (for a hole in her heart).
"The pain and illnesses, it's all connected," she says. "If I had gotten help about this earlier, I may have been able to not have lost so much physical ability."
Despite her many struggles, Jong, a wife and mother of four, remains positive.
"Lupus patients often deal with depression because of the vastness of the disease," she says. "For me, I know God is good. I know there's a reason for everything, and maybe the reason for my circumstance is to be able to tell other people it's OK. There are things you can do to help yourself and others, and that's what I try to teach my children."
Jong homeschools her four children, who are all Shriner's kids. They all have a connective tissue disorder, and need to be watched for lupus as well.
Symptoms of lupus: * Achy joints * Frequent fevers of more than 100 degrees
* Arthritis (swollen joints) * Prolonged or extreme fatigue
* Skin rash * Anemia * Kidney involvement * Pain in the chest on deep breathing
* Butterfly-shaped rash across the cheek and nose
* Sun or light sensitivity * Hair loss * Abnormal blood clotting problems
* Raynaud's phenomenon (fingers turning white and/or blue in the cold)
* Seizures * Mouth or nose ulcers Jong notes that lupus is considered a "women's disease," but affects men too. She adds that people with lupus should stay sun-protected at all times, and never eat alfalfa as it is known to cause flare-ups in patients.
According to the Lupus Foundation, researchers do not know what causes lupus. However, scientists believe that there is a genetic predisposition to the disease, and that environmental factors also play a role in triggering the disease, including infections, antibiotics, ultraviolet light, extreme stress, certain drugs and hormones.
It is not known how many people in Hawaii have lupus, but the Lupus Foundation's Hawaii chapter hopes to change that with the start of a lupus registry.
"Because it takes so long to diagnose the disease and symptoms are overlapping, finding families with a history of lupus is very difficult," explains Jong. "People can die of a stroke, diabetes, kidney failure and it gets listed as that, and they don't realize it could've been lupus.
"Based on the national averages, we are guessing that there are between 7,000 and 10,000 people in Hawaii living with lupus. But there is no real registry done in the U.S. either, so it's just a guess. One of the benefits of having a registry is it documents how many people are affected, which affects funding."
Jong continues to live each day with pain and fatigue, but she finds that she can't just sit still. It's her personality, but it's also her "wonderful" support system that keeps her going.
"Between my husband, children, family and friends, they make it possible for me to help build the foundation," she says. "My husband makes sure I say 'no' to things and that I get some rest. And Chris Inoue, our director of operations, helps keep everything together for me at the office.
"Because of my disability, and lupus is considered a disability, I work part time from home."
On Sunday, Dec. 3, the Lupus Foundation presents Let's Dance 'neath the Holiday Moon at the Royal Hawaiian Hotel's Monarch Room from 6 to 9 p.m.
Concert promoter Tom Moffatt serves as celebrity host, and Pat Hennesey's Big Band will entertain.
There will also be a pupu menu and door prizes, including a grand prize drawing for a roundtrip ticket to Las Vegas for two.
Ticket price is $15 (if purchased in advance), $20 at the door. To purchase tickets or for more information, call 538-1522 or visit http://www.lupushawaii.org .(JavaScript must be enabled to view this email address)
Most Recent Comment(s):