Fighting Off A Cold Or The Flu

By
.(JavaScript must be enabled to view this email address)
Friday - February 21, 2007
|
Share
Del.icio.us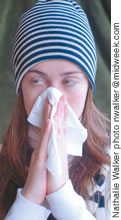 It's cold and flu season,
if you hadn't noticed
Gesundheit! Bless You!
It's that time of year when the office is filled with sounds of a scratchy throat, the drippy sniffles, and an endless cough.
It's the cold and flu season (generally from October through April), and chances are you or someone you know - or work with - has a cold or the flu.
According to the Centers for Disease Control, on average 5 to 20 percent of the population gets the flu every year in the United States. Of that, more than 200,000 people are hospitalized for flu complications and about 36,000 people die from it.
So when you first start to feel sick, it's important to determine whether you have the flu or cold.
"With the flu, you feel a lot worse than with a cold," says Dr. Luanne Off, a family nurse practitioner with a master's degree in public health. "Flu symptoms include a high fever, a bad cough, a lot of body aches, and weakness. You just feel terrible and tired, and usually it lasts one to two weeks.
"With a cold, if you have a fever it's generally a low-grade fever. And generally no body aches."
Other cold symptoms include sneezing, a stuffy nose and a sore throat. Symptoms of the flu often appear suddenly (within three to six hours), while a cold comes on gradually.
"The cold and flu are all caused by viruses," says Off. "That's why when people come for an antibiotic, it's useless because what it does is it weakens their system.
"There are hundreds of cold viruses, and there's no cure. The body just kind of has to take care of it on its own. But there are things you can do to help it go away faster."
Here are some ways to prevent and/or fight the cold and flu, by Off:
* Take a good multivitamin. * Eat a healthy, well-balanced diet with lots of fruits and vegetables.
* Exercise regularly. * Practice good hand-washing techniques. "You should wash them for 15 seconds," says Off. "You don't need the antibacterial soap. I tell patients all you need is plain soap and water. It's the briskly rubbing your hands that gets the viruses and bacteria off."
* Drink lots of water. * Stay home and rest. Many people go to work when they're sick and spread it to others.
* Take a hot shower. The steam is good for colds and nasal congestion.
* Salt water gargles for people with a sore throat."I personally like sea salt because it has a lot more minerals," says Off. "Or Hawaiian salt and with warm water. You can do it as much as you want. Salt water is very healing."
"Also, astragalus is a good herb you can take on a regular basis throughout the cold and flu," adds Off. "And black elderberry extract. I like Sambucol by Nature's Way. I've been working at a family practice clinic for about eight years and nine out of 10 times it's worked for me. And Andrographis is also an amazing herb. It's a Chinese herb and the No. 1 Swedish cold remedy."
For nasal congestion, Off recommends taking a quarter teaspoon of salt in a cup of warm water with a pinch of baking soda. Cup some of the solution in your hand, lean over, hold one nostril in, and then snort it up and blow it out with the other nostril. Do the same on the other side.
"The warmth of the water helps to open the nasal passages up," explains Off. "And the heat increases the circulation for healing."
Most Recent Comment(s):