Fitness Drills To Improve Your Golf

By
.(JavaScript must be enabled to view this email address)
Friday - January 05, 2011
|
Share
Del.icio.us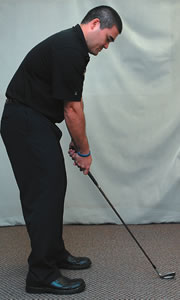 At left, Ken Nakasone shows the incorrect posture commonly seen in golfers, also known as C-posture, and at right is the correct posture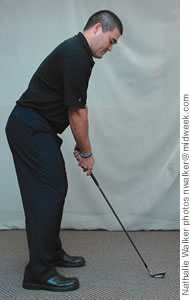 At left, Ken Nakasone shows the incorrect posture commonly seen in golfers, also known as C-posture, and at right is the correct posture
Golf enthusiasts can look forward to the return of the Sony Open in Hawaii Jan. 10-16 at Waialae Country Club with 144 of the world's top golfers in action.
This year, however, golfers also can get help with their golf game with the addition of the Go Healthy Lifestyles Pavilion, intended to encourage people to choose to live healthy in the new year.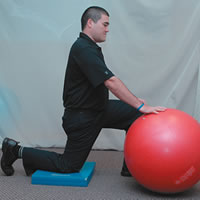 A stretch for lower back pain: Put one knee down (using a pillow or cushion to protect your knee), use an exercise ball or chair for balance, then move forward for a light stretch. Hold for about one to two minutes, then switch legs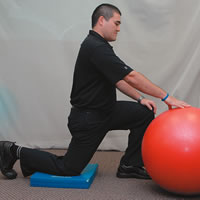 A stretch for lower back pain
Located in the tournament's Spectator Village between the 17th and 18th holes, the new pavilion offers interactive activities and demonstrations, and attendees can peruse educational information and product displays.
The Honolulu Club and U.S. Tennis Association will offer fitness sessions, and on Friday, Jan. 14, and Saturday, Jan. 15, Lululemon Athletica will offer Yoga for Golfers classes.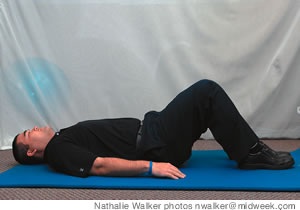 For your glutes: Lie on your back with your knees bent and bring your hip up to form a bridge. Hold for five seconds, do 10 to 20 repetitions. Make sure effort is felt more in the glutes rather than in the lower back or back of thighs or hamstrings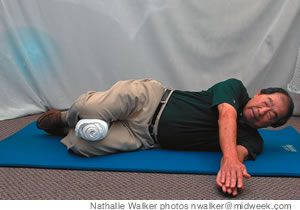 Milton Kurashige demonstrates the sideline open book stretch for the upper back. Lie on your side with your knees bent (keep a rolled towel between your knees). Start with your arms together and then open
There also will be cooking demonstrations by Kraft Foods, free flu shots for HMSA members, and golfers can have their golf swing analyzed by Hawaii pros courtesy of the Aloha PGA Section Foundation.
Guests also can meet with health and wellness specialists at HMSA's HealthPass in the Grass, and practice golf-specific stretches demonstrated by Milton Kurashige from Hawaii Physical Therapy.
"For golfers, they can come and we will evaluate their setup," says Kurashige.
"For example, their back shouldn't be curved like a 'C,' it should be straighter.
It's very common to see people setup in golf and they're bent over like that.
"Also, if we see they have limited movement or flexibility problems, then we can show how they can correct it by flexibility exercises. Also, lower back pain is one of the most common injuries in golf, and we are going to emphasize how we can correct and prevent this.
"And because most of our activity is sitting, the hip flex-or gets tight and then the glute muscles get weak. With golfers, we want them to develop buns of steel because it's the main muscle we use for power."
For more information on the Sony Open in Hawaii, visit www.sonyopeninhawaii.com or call 523-7888.
Most Recent Comment(s):