Fitness Kick

By
.(JavaScript must be enabled to view this email address)
Friday - June 18, 2005
|
Share
Del.icio.us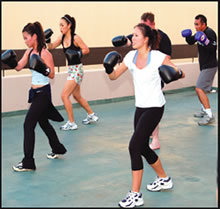 from left) Jaydence Tamashiro, Cathy
Tanaka, Tricia Ching Lyons, George
Lindemann and Keith Nakano
Got motivation? Feeling the dumbbell lag? Are you over the gym scene? Well, it's time to get back in the groove. The trick is stepping outside of the traditional workout regime and finding something fun.
My friend Tricia wanted to lose some weight and get in shape for her wedding. Not that she needed to, but every bride has that on their to-do list.
Six months before the big day, Tricia asked me to be her workout partner, but we had some challenges — I like to run, she doesn't; I'm a 24-Hour Fitness member, she's not.
And the biggest obstacle — finding time in our busy schedules to meet up. Tricia works full-time as a Realtor for Prudential Locations, and any free time was already devoted to wedding planning tasks — which is totally understandable.
Then she found out that her friend teaches a fitness kickboxing class, and we decided to try it out. Not only did Tricia love it, but it was a kick-butt workout.
The next day, we got our calendars and penciled in all the classes we could go to before her walk down the aisle.
The fitness kickboxing class, taught by Tommy Lam, Danny Lam and James Jowers of Kempo Unlimited Hawaii, is a one-hour cardiovascular, sweatdripping, muscle-working, stress-relieving, body-pumping workout.
"It has everything that you would encounter in a kickboxing gym," explains Tommy. "This includes the fitness workout with pad work and punch combinations, and exercises like push ups and jump rope. It's a cardiovascular workout that results in body toning and fat loss/burning. You burn about 800 to 1,000 calories in one hour."
"You also learn discipline, and improve your balance and coordination," adds Danny. "And there are also aerobic and anaerobic benefits."
Kempo Unlimited Hawaii, which opened in 1996 with a primary focus of self-defense, features the disciplines of kempo, karate, judo, jiujitsu, boxing and kickboxing.
Classes are available for men, women and children. The school added fitness kickboxing to its program in 2000, drawing about 15 to 20 students per class.
"Every class, we mix up the routine so it's always fun and challenging," says Danny. "We usually begin with a 10-minute warmup, which is a short interval workout with bursts of highintensity exercises mixed with lower intensity. Then we go into the core part of the class, which is boxing and kickboxing drills. Finally, we end with calisthenics, which includes toning exercises, such as push ups, ab work and lower-body exercises.
"When you come to this class, you get a complete workout — head to toe. It's also a great stress buster."
For Tricia, fitness kickboxing was the perfect mixture of fun and variation while getting a good workout.
"I like that it works out my entire body at once," she says. "And for me, when I first started I was hurting in places where I didn't even know that I had muscles. So now I have an awareness of the different muscles in my body. And any pain I get from kickboxing is good pain.
"Also, I like the feel and the sound of when I make a good solid connection between my shin and the pad I'm kicking."
The fitness kickboxing class meets Monday and Wednesday evenings at 6:30 p.m. and Saturdays at 12:30 p.m. at the Chinatown Cultural Plaza Room 302, and Tuesday and Thursday evenings at 7 p.m. at Hokulani Elementary in Kaimuki. Cost is $150 for three months.
This summer, Kempo Unlimited Hawaii is offering new students the first two classes free.
For more information, call 533-4466.
.(JavaScript must be enabled to view this email address)
Most Recent Comment(s):
Commenting is not available in this weblog entry.