Food Psychology

By
.(JavaScript must be enabled to view this email address)
Friday - December 30, 2005
|
Share
Del.icio.us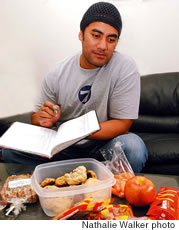 Keeping a journal helps self
monitor your eating habits
The holidays really are a love/hate time of year for me. I love the many get-togethers with friends and, of course, the endless baskets of treats. But I can't stand the added pounds that come with all the excesses.
Then, like almost everyone else in the world, New Year's Day rolls in, and on top of the resolutions list: Lose weight!
Well, this year, to help ensure that those resolutions stick, the Hawaii Psychological Association, together with the American Psychological Association, has launched a public education campaign offering a free brochure titled For a Healthy Mind and Body ... Talk to a Psychologist.
"A lot of diets are quick-fix oriented, and I think it's just part of the American culture," says Thomas Cummings, HPA president. "Diets are very food-focused, and that is part of the problem - food obsession. So, what we're really looking at is a lifestyle change, and psychologists favor a whole person focused intervention.
"It's kind of like switching from a food obsession to a healthy obsession through a process of self-monitoring, exercise plans, and increased awareness. A lot of research has shown that self-monitoring is a key component to sustained weight loss."
Tips to help you take action against obesity (from the HPA):
* Think about what you eat and why: Track your eating habits by writing down everything you eat. Record what was going through your mind at the time - were you sad or upset, or had you just finished a stressful experience and felt the need for comfort food?
* Cut down on portions while eating the same foods: Dieting will feel less depriving. You'll soon find that smaller portions are just as satisfying.
* Weight loss is never successful if you remain burdened by stress and other negative feelings. You may have to resolve these issues as part of a weight-loss program.
* Losing weight is always easier when you have the support of family and friends. Enlist the whole household in eating a healthier diet. Seek out a support group.
* Use the buddy system. Ask a friend or family member to be "on call" for moral support.
* Don't obsess over bad days when you can't help eating more. This is often a problem for women who tend to be overly hard on themselves for losing discipline. Look at what thoughts or feelings led to binge eating. A psychologist can help you formulate an action plan to manage these uncomfortable feelings.
"People turn to diet after diet rather than deal with the emotional issues that lead them to overeat," explains Cummings. "Obesity is one of the nation's fastest-growing health problems. Unless you act to address the emotions behind why you overeat, you could be facing long-term problems. It helps to know how your mind and your body can work to support each other.
"Emotional needs need to be addressed with a guide like a psychologist or directly through communication/open sharing with close friends and family."
The HPA recommends a team approach to weight loss or any health-related behavior change. A physician can help develop a safe plan for losing weight that includes both diet and exercise, while a psychologist can help address the emotional side of the equation - the stress, depression or experiences that caused you to gain weight.
"If you think about it, people are always making new year's resolutions to lose weight, so that means it didn't last," notes Cummings. "It didn't last because it was food-focused. The successful ones are the ones that involve a lifestyle change."
For the average inactive/obese person, Cummings suggests reducing fat to less than 20 grams a day, and an intake of 600 calories a day, and 75 to 100 grams of protein a day.
"There are many different ways to measure obesity," says Cummings. "I like to measure it with function as the focus. Can you play with your grandchildren? Can you play at the beach without getting short-winded, etc.? It's more about function than body shape. I know skinny people who can't run a block without coughing.
"As for successful weight loss, what psychologists use as a measure is at least 10 percent reduction for at least one year for significant improvements in health."
According to Cummings, self-monitoring involves systematic observing and recording of calorie intake and daily exercise, as well as what is being eaten and your mood at the time.
"Keeping a journal, that in itself really does help curb the habit because it increases awareness," says Cummings. "A lot of people eat for emotional comfort. And if you think about it, if a child is sad, you give them a sweet treat. Or if they're good, they get a reward and it's ice cream. So there's this training we've had ever since we were young to fill emotional needs with food.
"Meditation also helps. People with eating problems are less aware of what we call satiety cues, a feeling of fullness, and they are less aware of taste-spe-
cific sensations. So, what mindfulness meditation does is it increases one's awareness and sensitivity to these senses. They eat less but enjoy it more."
To receive a free copy of "For a Healthy Mind and Body ... Talk to a Psychologist," or to obtain free referrals to a psychologist in your area, call the Hawaii Psychological Association at 521-8995 or e-mail Carol Parker, HPA executive director, at .(JavaScript must be enabled to view this email address)
Most Recent Comment(s):