For Balance, Just Indo Board It

By
.(JavaScript must be enabled to view this email address)
Friday - June 01, 2011
|
Share
Del.icio.us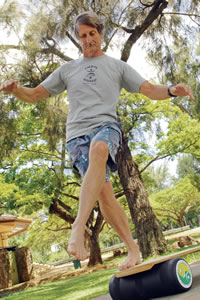 Hunter Joslin created the Indo Board to practice surfing moves out of the water. Nathalie Walker photos

.(JavaScript must be enabled to view this email address)
"When you can't go outdo(or), you got to go indo(or)," says Indo Board founder Hunter Joslin on the meaning behind the name of his popular balance board.
Joslin has been an avid user of balance boards since 1965. In 1975, he designed the first prototype of his Indo Board with the purpose of helping surfers train outside of the water. The response was great with people reporting increased leg strength and core fitness while using it.
Then, in 1998, he decided to go commercial and has since developed a growing number of fans, including surfer Bethany Hamilton who reportedly started using the Indo Board shortly after she lost her arm in a shark attack to help restore her balance on the waves.
A surfer himself, Joslin says the Indo Board is great for not only board-sport athletes but for anyone who wants to improve their balance, posture and core strength.
According to Joslin, there are mixed martial arts fighters, professional football players, NASCAR drivers and motocross racers who use the Indo Board.
Even Hawaii schools, both public and private, have purchased it as a physical education device.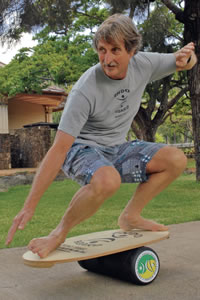 The Indo Board can be used by kids as young as 3 to seniors in their 90s. Keeping the board from touching the ground for extended rides is both the goal and challenge. It's also fun.
The Indo Board comes with a deck and a roller. An IndoFLO Balance cushion also is available and is used as an alternative to the roller.
The original Indo Board has a weight limit of about 250 pounds. A larger model, the Indo Board Pro, can take up to about 350 pounds.
The Indo Board is best used on a carpeted surface, and beginners should have a partner stand in front of them for support.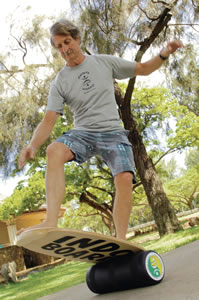 "The Indo Board is very versatile," adds Joslin. "We can do so many different combinations of exercises from upper body to leg strength exercises by changing the cushion or plastic cylinder as the base."
On Oahu, the Indo Board is available at Aloha Board Shop on King Street, Hawaiian Water Sports in Kailua, Hawaiian South Shore on Ward Avenue, Wet Feet in Aina Haina, and at SurfCo Hawaii in Pearl City (98-723 Kuahao Place) which also is the Hawaii distributor of the Indo Board.
Price ranges from about $135 (for the original Indo Board and roller) to $220 (for the bigger Indo Pro Board).
For more information, visit surfcohawaii.com, indoboard.com or call 488-5996.
Most Recent Comment(s):