From Chubby Girl To Figure Queen

By
.(JavaScript must be enabled to view this email address)
Friday - July 27, 2011
|
Share
Del.icio.us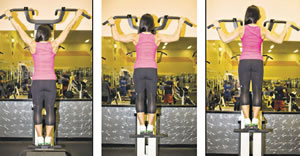 Masayo Shibata with trophy at far right, demonstrates good form on a chin-up machine. Leah Friel photos

.(JavaScript must be enabled to view this email address)
Masayo Shibata moved to Hawaii from Japan 20 years ago as a student with hopes of learning English and a dream to live in Hawaii. She's accomplished both of those things, and more.
A "chubby girl" at the time, Shibata noticed a 24 Hour Fitness across the street from her language school on Kapiolani Boulevard and joined to lose some weight, not knowing that her gym membership would turn into a career as a personal trainer. More recently, she was the overall winner of the Women's Figure Masters Division at the Ikaika Bodybuilding Championships July 9 at the Blaisdell Concert Hall.
"I started competing last year the Paradise Cup was my first time (which she also won in the women's master figure division)," says Shibata. "Before that I trained my clients for figure competitions and pageants, I even judged, so I wanted to complete the circle and try competing for myself. Also, my friends were very supportive."
In preparing for the competitions, Shibata says she "cleaned up" her diet by preparing all her food herself, so no eating out at restaurants. And, of course, there were a lot of protein shakes and supplements.
"I ate chicken, beef, fish, vegetables and eggs," she says. "I don't like rice so cutting out rice was not a problem. I also take a daily multi-vitamin and calcium."
For her supplements, she likes APEX products, including its antioxidant and BCAA (branched chain amino acids) tablets. Her favorite protein shake is the APEX 100 percent Whey which she takes right after a workout for recovery.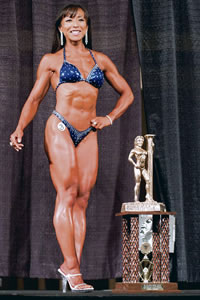 Photo courtesy Masayo Shibata
As for her training, she says it wasn't that different from what she normally does. "Typically I work out every day for about an hour-and-a-half," she says. "I know it sounds like I'm such a gym rat, but I love gym exercises. I work on one body part a day followed by 20 minutes of light cardio. And because I'm always indoors for work and then for my workouts, so on Sundays I go hiking."
One of her favorite machines at the gym is the chin-up machine (pictured at left). "It really helps define my back muscles," she says. "I use it a lot."
A personal trainer for about nine years, Shibata says she sees a lot of bad form in the gym. "(For example, with the chin-up machine) people usually just go up and down and up and down, but you have to actually lift your chest up otherwise you can't really squeeze your back, and it goes to an arm exercise instead of back. And make sure to keep a neutral spine position during the exercise."
It's also important to focus on your breathing (exhale when exerting) and that you make good contraction on the target muscles, Shibata adds.
Most Recent Comment(s):