From Hoops To CrossFit, Umeda Wins

By
.(JavaScript must be enabled to view this email address)
Friday - April 13, 2011
|
Share
Del.icio.us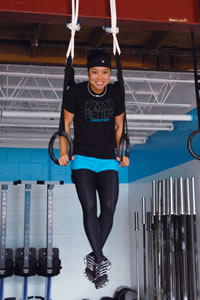 Elyse Umeda. Nathalie Walker photo

.(JavaScript must be enabled to view this email address)
After helping Punahou to a girls basketball state title in 2003, Elyse Umeda went on to play for Princeton and won an Ivy League championship.
Now she's competing in a much different sport, but still kicking okole.
Three years ago, Umeda was introduced to CrossFit through her friend Kimo Kockelman at Hardass Fitness. She did one work-out with him and was "instantly hooked."
"CrossFit is constantly varied functional movements executed at high intensity," explains Umeda. "Also, a lot of the workouts have time domains, prescribed weight loads, and we do a lot of body weight movements, we run, we roll - there's nothing that we don't really do."
After about a year of doing CrossFit, Umeda decided to take her new sport to the next level. She qualified for the Northern California Regional CrossFit Games where she finished fourth out of 60 women (only four move on) to qualify for the 2009 CrossFit Games. However, a month before the competition, her grandfather passed away and she decided to drop out.
Last year, she finished third at regionals, and 11th at the Games.
"Since doing CrossFit, I'm more fit than I was as a college athlete," says Umeda, 26. "I can lift more, my endurance is better and my basketball is better, and I don't even play basketball anymore."
This year, Umeda hopes to again qualify for the CrossFit Games, taking place July 29-31 in Carson, Calif. She also opened her own gym called CrossFit 808, located at 220 Puuhale Road #A3. Monthly fees are $85 (for twice a week), $115 (three times a week) and $155 (unlimited).
For more information, call 848-1555, email .(JavaScript must be enabled to view this email address) or visit 808crossfit.com.
Most Recent Comment(s):