From Ironmans To A Wheelchair

By
.(JavaScript must be enabled to view this email address)
Friday - November 24, 2010
|
Share
Del.icio.us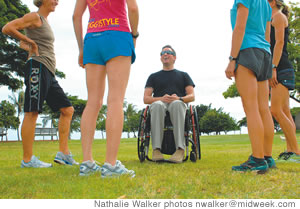 John Henderson is doing more coaching now
Life will never be the same again for triathlete John Henderson, who was hit by a tour bus in May 2009 while on a four-hour training ride on the North Shore.
A champion 24-hour mountain biker, who has completed three full Ironman distance triathlons, four half-Ironman distance triathlons, and held a world ranking of 18th in the world for the Xterra Off Road Triathlon World Championships, Henderson now sits in a wheelchair.
"I had broken my spine in eight places, broke 10 ribs on my left side, three on my right, broke my scapula in two places, broke my clavicle, shattered my pelvis and dislocated my right hip," says Henderson, 36. "I also punctured both lungs, had bruising of my heart, major internal bleeding, spleen, colon and liver damage, and subsequently developed pneumonia.
"Initially, the doctors said people don't live through what I lived through."
Amazingly, Henderson not only survived the accident, but is making strides in his recovery.
"I don't know if I'll do a triathlon again, but I definitely plan on maybe doing some ocean swimming and hopefully start paddling."
Henderson also teaches spin classes at the Honolulu Club, and he'll be at the Xterra Trail Run World Championship Dec. 5 at Kualoa Ranch. No, he's not entered in the race. He'll be there as support for the ladies he's been coaching, including girlfriend Laurel Dudley.
"Coaching, it just kind of helps me stay in touch with a sport that I love doing but can't really do anymore," says Henderson. "Life throws curve-balls at you that often times can be life-altering or life-changing, and for me it was losing the ability to do everything that I loved. But I try to find the good in things rather than look at the bad."
The Xterra Trail Run World Championship serves as the finale of the 2010 Xterra Trail Run Series, and some of the world's best trail runners will compete in the 21-kilometer race for a $10,000 prize purse.
With pristine Kualoa Ranch as the backdrop, the race also is one of the most popular events for home-state runners, including novices. The world-championship contenders race on a half-marathon, 21K course, but there also will be a separate 10K and 5K race.
Entry forms are available at xterratrailrun.com.
Most Recent Comment(s):