Get Fit Climbing Jacobs Ladder

By
.(JavaScript must be enabled to view this email address)
Friday - March 23, 2011
|
Share
Del.icio.us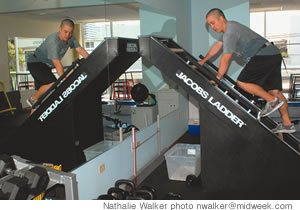 Chris Ranes works out on Jacobs Ladder
Mixed martial arts champion Reno Remigio recently added the Jacobs Ladder training system to his work-outs. He says it has taken his training up to another level.
"It's really challenging," he says. "It uses your core and coordination, and you need that a lot for the sport I'm in. And it really simulates the fatigue that you feel during a fight."
Remigio uses the Jacobs Ladder as part of his circuit training at Fitness Ranes Training Studio, which is hosting a Launch of Jacobs Ladder event, offering one-hour complimentary sessions March 24 at 6 p.m. and March 26 at 9 p.m. Registration is required by phone at 398-4931 or by e-mail at .(JavaScript must be enabled to view this email address).
"My buddy (MMA trainer) Jonathan Chaimberg in Montreal uses the Jacobs Ladder with his athletes and I think it's unique, effective and kind of goes along with the feel of my studio, which is moving your body," says Chris Ranes, owner and lead trainer at Fitness Ranes Training Studio. "It works your whole body, and one of the good things about it is it puts the user at a 45-degree angle and takes the pressure off the joints.
"I use it with my seniors as well as with my athletes, and they all love it."
The Jacobs Ladder, which was developed by former Western New York fitness champion Steve Nichols, arrived in Ranes' studio two months ago. He says it cost him about $5,000, and added that it was very expensive to ship.
At his studio, Ranes incorporates Jacobs Ladder into his one-hour circuit training program, which consists of up to 14 different exercise stations.
The upcoming complimentary sessions will be an abbreviated version of the class that normally costs $25.
"We will have people moving to different stations to see how we actually incorporate it into a work-out," he says. "Circuit training is used to get a time efficient workout, so you can get a lot done in a short amount of time.
"With the Jacobs Ladder, it can be used for as little as 20 seconds, so less time and higher intensity, or you could be on it for 20 minutes plus, although that's not really what we use it for. We use it mainly for anaerobic conditioning - higher intensity intervals."
You may have recognized Jacobs Ladder from popular TV shows The Biggest Loser and Jersey Shore.
The self-powered ladder simulates a continuous climbing treadmill, and adjusts to each user's ability and power.
"The response so far has been incredible," adds Ranes, a National Exercise & Sports Trainers Association certified personal trainer and International Kettlebell and Fitness Federation-certified kettlebell teacher. "It requires not just use of your legs, but your arms and some coordination. It's not used to work specific muscles, but rather your whole body. The results are conditioning and fat loss."
Fitness Ranes Training Studio is located at 930 McCully St. Suite 203. For more information, visit fitnessranes.com.
Most Recent Comment(s):