Get Ready To Meet Pacman

By
.(JavaScript must be enabled to view this email address)
Friday - November 02, 2011
|
Share
Del.icio.us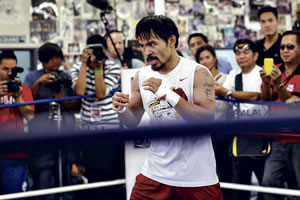 Manny Pacquiao trains during his media workout at the Wild Card Boxing Club in Los Angeles last week in prepa- ration for his Nov. 12 fight against Juan Manuel Marquez. AP photo/Jae C. Hong
Promoter "Big Ben" Sesepasara is on a crusade to bring boxer Manny Pacquiao to Hawaii for a fight, hopefully sometime next year. Sergio Martinez and Timothy Bradley are being looked at as a potential opponents, and the event would likely take place at Aloha Stadium.
Until then, fans (and there are many in Hawaii) can meet "Pacman" Nov. 21 at Manny Pacquiao's Dinner and Auction at the Hilton Hawaiian Village Coral Ballroom.
"Hawaii deserves a big fight like this," says Sesepasara. "We have a big Filipino community here, and an event like this can help stimulate the economy.
"Hawaii is a neutral ground for fighters, and it's closer for people from the Philippines to fly here (than to Las Vegas, where fights usually take place). And it's not just the Filipino community who are fans he has one of the biggest followings in Hawaii."
Before his arrival in Hawaii (which reportedly will be his first trip to the Islands), Pacquiao will be focused on his world welterweight title bout against Mexico's Juan Manuel Marquez happening Nov. 12 at MGM Grand in Las Vegas.
"Sugar Ray Leonard and Oscar De La Hoya used to be my two favorite fighters until Pacquiao came to the scene," says Sesepasara. "I've seen him train, and I've never seen anyone with hand speed and power like his, and he's very nice and humble, especially when it comes to his fans."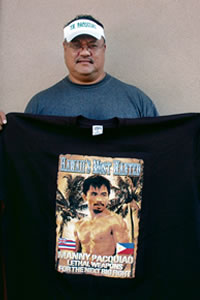 'Big Ben' Seseparasa and a 'Campaign' shirt to bring a Pacquiao fight to Hawaii
According to Sesepasara, Pacquiao also will make an appearance during halftime at the University of Hawaii versus Fresno State game Nov. 19 at Aloha Stadium. Also, sometime during his visit here, Mayor Peter Carlisle will proclaim Manny Pacquiao Day.
Sponsors for the upcoming November dinner with Pacquiao include Love's, Panda Travel, IslandTix, KounterPunch Worldwide, RickRock Productions, TryKyaniNow.com and Auto X-Change. Doors open at 6 p.m.
Tickets cost $250 per person or $2,000 for a table of 10, and can be purchased at IslandTix.com.
A portion of the proceeds will benefit Aloha United Way.
"Campaign" T-shirts also are available for $20 and can be purchased by calling 371-3279 or 3069604.
"I want this more bad than any other sport or entertainment event we can offer," adds Sesepasara, noting that Honolulu attorney Michael Green also is working to make this happen. "Right now it's looking pretty good."
For more information, email .(JavaScript must be enabled to view this email address).
Most Recent Comment(s):