Get Up And Muve To The Music

By
.(JavaScript must be enabled to view this email address)
Friday - June 17, 2009
|
Share
Del.icio.us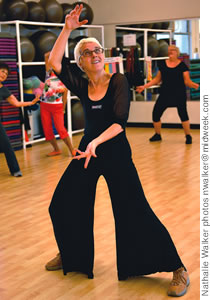 Maggie Kunkel leads a MUVE class at the Central YMCA
This summer, dance to better health with MUVE, a new type of personal dancing created by Maggie Kunkel.
"MUVE dancing is a natural sport," says Kunkel, who also is a small business owner offering sales and marketing services as well as design and art-direction. "It gives you a muscle and cardio workout that is custom fit to your body. Muving to music is easy. You were born with all the skills you need. No experience is required and you can't do it wrong."
According to Kunkel, MUVE is a no-hassle, easy 1-2-3 dance/exercise method that can be done individually at home or in a group setting.
"It's about being inspired by music to move," she notes. "MUVE dancers accentuate rhythm and explore movement without choreography. You can follow the lead dancer, called the Muse, or create your own dance at any time."
From a young age, Kunkel loved to dance. She recalls growing up in a "tiny" village in Germany where there were no dance studios or lessons available, so she would dance in her living room.
"But somehow dancing is better when it's done with people," she says. "So, I found friends to dance with and we started doing it as a hobby."
In 1998, Kunkel who moved to Hawaii in 1992, placed an ad in the paper for people to dance with. She found some and started teaching MUVE as a way for her to keep dancing and to share her love for music and dance with others.
She also recently releasedMUVE and Family MUVE DVDs for people to practice in their own home.
"Dancing is so good for you," she says. "You use a lot of different muscles. And I think it's fun.
"Also, MUVE dancing works for all ages. Most of my students are between 40 and 90. What's most exciting is that all these different bodies can join together in dance. Now, grandma and grandchild can do their workout together because you can dance hard and rough or soft and gentle."
Reiko Brandon says the best thing about MUVE is that she can do her own thing and not have to follow an instructor.
"And the other wonderful thing about MUVE is the music and rhythm," she adds. "It's elegant but it's still exercise."
Robin Loomis, 76, has been taking MUVE classes for about a year and says for her it's more fun to dance in a class than by yourself.
"If you need inspiration you can follow Maggie, but otherwise you just go where the music takes you," says Loomis. "I'm a senior citizen and MUVE helps me to get my blood going and it's a great way to exercise."
Enjoy free MUVE sessions from 5:45 to 6:45 p.m. Tuesdays, June 16-Aug. 11, at Makiki Library (1527 Keeaumoku St.). Kunkel also leads MUVE sessions at the Unity House Center in Chinatown Tuesdays at 10 a.m., at the Central YMCA Wednesdays at 10:15 a.m., and at Moiliili Community Center Saturdays at 3:30 p.m.
For more information, visit www.muve.com or call 955-8211.
Most Recent Comment(s):