Getting Needled

By
.(JavaScript must be enabled to view this email address)
Friday - October 06, 2006
|
Share
Del.icio.us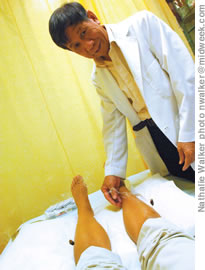 Acupuncturist Shi Zhong Xiao puts
needles on a patient. He will be at the
Splendor of China this weekend at the
Neal Blaisdell Center
Acupuncture may look painful, but those who've tried it say it's not as bad as it looks.
In fact you can hardly feel the needles. And if you have any health problems, it may be worth a try.
From back pain to cancer, acupuncturist Shi Zhong Xiao says more and more people are discovering acupuncture as a complement to their prescription medicine.
"It's a 5,000-year-old healing method beginning from China," says Xiao. "We put needles in very precise acupuncture points of the body, and we use heat and magnets. People come for all different reasons - body pain, car accident, insomnia, weight gain. And lately, we've had a lot of people come in because they can't get pregnant."
For Michele Choy, acupuncture has helped her with hot flashes and unexplainable weight gain.
"In 2002, my body temperature was starting to get heated but not to the point of sweating yet," she recalls. "I was also gaining weight yet I wasn't eating any more than normal. I also start-
ed to look and feel bloated. And American medicine didn't help me."
She made an appointment with Xiao, and with some needles and a Chinese herbal tea, her body temperature didn't rise anymore and her feeling of being bloated went away. She also lost weight, and gained energy. Now, she continues to get acupuncture once a week.
"When I get done with the treatment, I feel very rested and relaxed so I feel I am more energized," she says. "And I continue to go to acupuncture for maintenance and preventative reasons. He (Dr. Xiao) helps to keep my body in balance with the ying and the yang.
"Also, my brother had knee surgery and started going to Dr. Xiao and he said acupuncture has helped the pain. When he does-n't go for awhile, the pain comes back. And when I had a pain in my neck for several months, he treated it and I no longer have the pain."
The testimonials are endless. Even MidWeek editor Don Chapman has had success with it.
"My acupuncturist, Dr. Peggy Oshiro, has done wonders for my back, and has kept me playing golf," he says.
"She's also helped three people I know through bouts with cancer. And one woman I know who couldn't get pregnant had triplets after acupuncture!"
Learn more about acupuncture at this weekend's Splendor of China, a cultural festival and trade show, presented by the Chinese Chamber of Commerce of Hawaii this weekend (Oct. 7 and 8) at the Neal Blaisdell Center, Exhibition Hall.
Admission is $3, free for children 10 years and younger. Hours are 10 a.m. to 9 p.m. on Oct. 7 and 10 a.m. to 5 p.m. on Oct. 8. Acupuncture demonstrations take place at 7 p.m. Saturday and 2:30 p.m. Sunday. Other festivities include a Chinese dog show, cooking demonstrations, Chinese lion dance, manapua eating contest, ice-cream eating contest, and much more.
Most Recent Comment(s):