Getting The Jump On A Fitter Body

By
.(JavaScript must be enabled to view this email address)
Friday - April 28, 2010
|
Share
Del.icio.us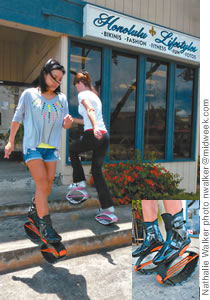 Joann Kim and Margo Powell in their Kangoo Jumps
Margo Powell, owner of Bikinis & Things on Monsarrat Avenue and Honolulu Lifestyles on Kapahulu, has been jumping her way into shape with Kangoo Jumps, a safe, low-impact rebound exercise shoe.
"I saw it on a gentleman in San Francisco last September and asked him what they were," explains Powell, 56.
"His response to me was, 'I'm having so much fun. I'm having more fun than I've ever had in my life.'"
Soon after, Powell got a pair for herself and she says it's not only fun, but also a great workout.
"I had not been exercising for two years and I kind of always carried weight in my thighs," she shares. "I started to see the little bulges here and there, and after wearing the Kangoo Jumps for three weeks, I got out of the shower one day and it was gone. My midsection had slimmed down and instead of my old skin, I had back my 20-year-old body.
"I wasn't trying to monitor my weight; I was just wearing them because I was having so much fun."
Powell wears her Kangoo Jumps every day when she's at one of her stores. She even keeps them on when she goes to get lunch at nearby eateries or Safeway, which often attracts attention as the boots lift her to a towering 6 feet 5 inches from her regular height of 5 feet 10 inches.
"Once I put them on, I don't want to take them off," she says.
"I've never fallen in them. It's also fun to jump around stationary, and I like dancing with them because the movement is so fluid."
Powell says some of the other health benefits she's noticed from the Kangoo Jumps include helping her to stand more erect, increasing bone density, strengthening core muscles, lifting buttocks, increasing metabolism and renewing energy.
"I'm not one to be real grouchy, but sometimes I wouldn't be very happy and the girls at the store would tell me to put on my Kangoo Jumps and go jumping because I'm always happy when I have them on."
Powell believes in the Kangoo Jumps so much that she now sells them at her two retail stores. Price is $250 to $300 depending on the style, and $190 for children's sizes (not recommended for children under age 6). They can be used indoor and outdoor, and have a weight limit of about 300 pounds.
Powell also hopes to eventually offer classes and/or excursions through Waikiki.
The public is invited to test out the Kangoo Jumps at an open house May 1 from 10 a.m. to 4 p.m. at Honolulu Lifestyles (909 Kapahulu Ave., across from Safeway).
Customers who purchase a pair will receive a coupon for a dozen malasadas. There also will be refreshments and drawings for hairless skinny pigs and guinea pigs.
For more information, call 738-1555.
Most Recent Comment(s):