Gimme 10: The Perfect Push-up

By
.(JavaScript must be enabled to view this email address)
Friday - June 13, 2007
|
Share
Del.icio.us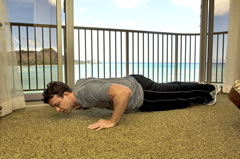 Wrong: When doing push-ups, make sure your
hands are not too far from the body as in the
picture above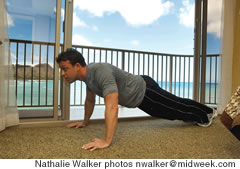 Correct: Keeping your neck aligned with the tailbone,
bring your chest down while inhaling and stop when
your shoulder is aligned with your elbow. Exhale up.
Make sure your elbows do not lock and that your
hips stay up (don't let them sag)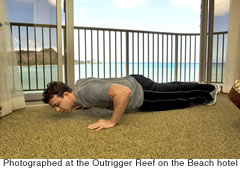 Get down and give me 10!
Push-ups are probably one of the easiest exercises to do. You can do it anytime, anywhere and you don't even need your shoes.
Men and women of all ages and fitness levels can do it, and when done routinely and correctly, it can give you excellent results.
"Push-ups are great because it works several muscles groups at once," says Matt Jones, a certified personal trainer at Gold's Gym and owner of Body Design by Matt. "Primarily it works the triceps (back of the arm), the chest, and the muscles at and around the rib cage, and your ab muscles. It's great for burning fat and or building muscles."
For beginners, drop to your knees while doing your push-ups. Or you can do an incline pushup by positioning your hands on the edge of furniture, such as a sturdy desk against a wall.
For an advanced push-up, put your feet on the edge a bed, couch or other sturdy furniture to elevate your feet above your shoulders and position your hands on the floor as you would for a normal push-up.
For good results, Jones recommends doing three to four sets of 10 to 15 repetitions. It's also important to make sure your body is positioned right.
"One of the biggest mistakes people make when doing pushups is not positioning their body correctly," notes Jones. "They usually have their hands too far away from the body and away from their shoulder. The correct placement is to have the wrist aligned with the mid-chest."
Most Recent Comment(s):