Giving Up 'Grettes

By
.(JavaScript must be enabled to view this email address)
Friday - September 22, 2006
|
Share
Del.icio.us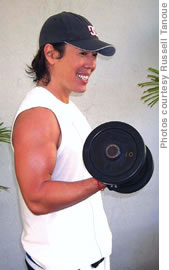 Gunning for a healthier lifestyle
According to the American Cancer Society, smoking causes one in five deaths and millions of illnesses every year in the United States.
"Cigarettes shouldn't be legal," says fashion glamour photographer Russell Tanoue, who is proudly celebrating his one-year anniversary of being tobacco free. "I was smoking cigarettes for about 15 years, since high school, and I have compassion for people who smoke because I know what it's like to have that horrible addiction.
"Cigarettes, it's a business and I'm a victim. You have nothing to gain from smoking, and I truly believe I was ripped off. When you're young you start smoking because you think it's cool, and then 10 years later I'm still smoking - I'm addicted. Then you think, why am I contributing to my death?"
As one who has always spoken about living a positive lifestyle, Tanoue says it was time for a change.
On Sept. 17, 2005, Tanoue was cleaning his bathroom when he looked in the mirror and saw himself holding a cigarette. Behind him was a framed
MidWeek cover for his Angels on the Rocks event, a celebration for all the people in his life who have passed.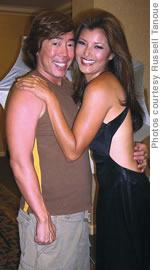 Tanoue with a happy Kelly Hu
"I looked at that cover and thought to myself that I want to continue to make a difference," recalls Tanoue. "I want to continue to have events to raise money for charities like the American Cancer Society, but if I'm smoking, I'm not a setting good example."
Before quitting, Tanoue was smoking one pack of cigarettes every two days. Do the math and that means in one year, he saved about $1,000 and rid his body of about 3,660 cigarettes.
His body also went through some major changes. He initially replaced cigarettes with a strict two-month diet and exercise plan, and in one year went from 125 pounds to a healthy 150 pounds.
"In the first three months your body goes through a detoxing period," recalls Tanoue. "I would feel so fatigued and cranky. I would just snap. But everyone knew what I was doing and they were so understanding.
"Now, I see things so much more clearly. I have more energy. My skin cleared. My muscles are more defined. And I've made so many people happy. I didn't realize how many people in my life wanted me to quit."
He notes a time when good friend Kelly Hu, whose father passed away from lung cancer and emphysema, pointed out to him that "you do all these things to help others, but you don't even help yourself."
To avoid the temptation, Tanoue says he separated himself from smokers, and even bleached his teeth. And when he did feel the urge, he would slap his thigh to change his mind - a trick he learned from motivational speaker Anthony Robbins.
"These days, when I see people smoking I feel very sad," he says. "I know when they're inhaling that cigarette it's for some satisfaction, but it's so temporary. After the cigarette, the problem is still there."
Smoking cigarettes not only solves nothing, but it can be the cause of countless health problems - aneurysms, bronchitis, stroke, reduced fertility, cataracts, bone thinning, hip fractures, peptic ulcers ...
Want to quit smoking? Tanoue suggests joining a gym or starting a workout regimen. Also, change your diet to include more healthy foods, and do cardio every day.
"Change is good," he says. "And I hope to see people challenge themselves to make a change for the better in their life. It doesn't have to be smoking, it can be anything."
In celebration of his one-year anniversary of being tobacco-free, Tanoue is planning an event called "Beautiful" to take place on Oct. 21 from 10 p.m. to 2 a.m. at Indigo. It's the first of a three-part event, and proceeds will benefit the American Cancer Society.
For more information, visit www.russelltanoue.com
Most Recent Comment(s):