Go Figure

By
.(JavaScript must be enabled to view this email address)
Friday - July 07, 2006
|
Share
Del.icio.us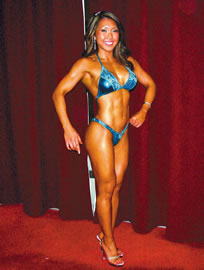 Sarah Nakajima, winner of the 2006
N.P.C. Hawaiian Islands Women's
Figure Contest, says the key to a body
like this is discipline
Standing 5 feet flat, Sarah Nakajima is a petite woman with a passion for fitness and the muscles to prove it.
Midway through her training for the upcoming N.P.C. (National Physique Committee) USA Figure Championships in Las Vegas July 28, she entered and won last weekend's N.P.C. Hawaii Figure Contest at Neal Blaisdell Concert Hall.
Not bad considering she isn't even at her peak of pre-contest training. In a few weeks, she'll be even more defined than pictured (at right). Imagine that!
So, what does it take to get a hard body like hers? Discipline!
"I definitely feel like the hardest part of training is keeping your intensity level up and not being tired, especially working out after work," says Nakajima, who works a full-time 9-to-5 job as the operations manager at Ameriprise. "One thing that keeps me motivated and into the gym is knowing that my competition is working out and probably working harder than me, and just wanting to be my best on stage.
"Also, you need the discipline because there is food all around you."
For Nakajima, discipline means 13 weeks without her favorite grinds: cheeseburger and fries from Brandi's (aka Kiki's) on Kapiolani Boulevard, roast pork/big spaghetti combo from Tsukenjo's lunch wagon on Ward Avenue, and dark chocolate.
"I have to say I have an awesome group and boss to work for, because it really helps that they are so understanding," says Nakajima, a 1996 graduate of Hawaiian Mission Academy and 2000 graduate of Chaminade with a degree in international business. "When I'm training for a contest, I kind of turn into a hermit in that I eat at my desk by myself because my eating schedule is so different from theirs. I don't have lunch with them like before, and it's kind of hard. That's a big thing for me, feeling like I'm being antisocial."
For her pre-contest diet, Nakajima eats small meals six to seven times a day. At four weeks to go, she has already cut out all fruits and basically anything with sugar.
A typical lunch will consist of brown rice with lean steak or chicken. Dinner is a variety of fish cooked with just salt and pepper.
"Carbohydrates are very important, so I still have my brown rice and colored potatoes like yams and Okinawan potatoes, no regular potatoes," she says. "Also, I take my multi-vitamins. And in pre-contest, protein shakes are big for me. Of my six to seven meals a day, maybe three of those will be a shake with some type of carb."
While training for a contest can be very tiring and extremely time-consuming, Nakajima is lucky to have husband Jacob as her trainer and cook.
"Jake (a firefighter stationed at Manoa) is the one who got me into competing," she says. "He's been in competitions before, so he has a lot of experience."
At her husband's encouraging, Nakajima entered her first competition at last year's Designer Body bikini contest.
"I didn't do well," she admits. "I trained hard, and I was told that I was too muscular."
A couple of months later, she entered the NPC Hawaiian Islands Women's Hawaii Figure Contest and placed second. This year, she tried the Designer Body contest again, and for the second time was told that she was still a little "too hard."
Now, she's going for the USA Figure Championships.
"The (recent) Hawaiian Islands contest was to help me gain experience on stage," she says. "Before this, I never won anything. I'm not a winner. So for me to win my class and the overall title at Hawaiian Islands was a big deal and a big booster in training for the USAs."
Nakajima, who celebrates her 28th birthday on July 10, discovered weightlifting five years ago when she bought a membership to Gold's Gym.
"I always liked the look of female fit bodies," she says. "When I first enrolled at Gold's, I never really knew what to do. But the people there are helpful and serious, and I learned a lot from watching them. From there I saw a change in my body and I liked it, so I just continued.
"Before this, I never thought in a million years that I could do something like this. I never thought I would have muscles."
Nakajima's intense training may have earned her an amazing body and a couple of big trophies, but it's the bond she has with her husband that she is most proud of.
"Going to the gym has brought us closer together, especially when a competition comes up," she says. "It's kind of a hobby we do together. And he has so much faith in me."
"My No. 1 fitness advice is discipline. Just getting yourself into the gym, having a goal and sticking with it. If you do that, you'll see good results.
"Most people try to get into it, but they give up pretty quickly. There are days when I just want to go home and take a nap, but I know that after a workout I'm happy that I worked out instead of doing nothing."
Most Recent Comment(s):