Going Green And Looking Good

By
.(JavaScript must be enabled to view this email address)
Friday - April 22, 2009
|
Share
Del.icio.us
Happy Earth Day!
Going green has been the hottest trend for the last few years. And I think a big part of that can be credited to the countless number of Hollywood celebrities who have been doing their part to save the planet.
Leonardo DiCaprio reportedly owns an eco-friendly condo in New York City featuring a fresh filtered air system, an in-house water-treatment facility and rotating solar panels.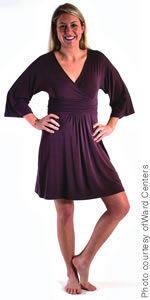 Kimono Sleeve Tunic from Morgan Beret
Fashion designer Stella McCartney is a vegetarian, and powers her studio and website with wind energy. Salma Hayek is a member of the board of Global Green U.S.A. and drives a fuel-efficient hybrid vehicle.
And actress Julia Roberts, who talked about her commitment to the environment on The Oprah Show, makes compost in her back yard. The list goes on and on.
So, if you're not already doing so, Earth Day is a great day to start living green: reduce, reuse and recycle.
In the fashion and beauty industry, many businesses are helping by offering a variety of green options. Here are some examples: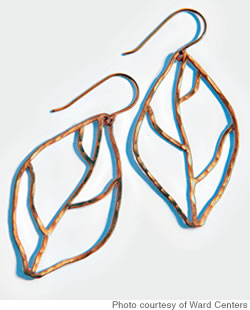 Recycled gold leaf earrings
* Kicky Pants bamboo onesie from The Growing Nest, $23-40. All onesies are 20 percent off for the month of April.
* Bamboo Dreams Maya Kimono Sleeve Tunic from Morgan Beret. Its DreamSacks' Bamboo fabric is pesticide free and made from sustainable and renewable bamboo.
* Recycled gold earrings designed by Majorie Victor.
Available at Cottage by the Sea, $126.
* Cinnamon Girl bamboo wrap-dress, $59.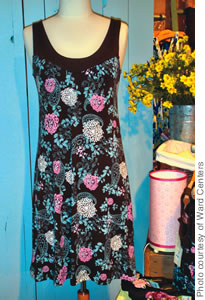 Cinnamon Girl bamboo wrap-dress
* Tarte limited-edition reusable straw palette and bamboo eyeshadow brush set with six vibrant eyeshadows and three vivacious t5 infused lipglosses, $38.50 available at Sephora and tarte.com. Bamboo is the fastest growing woody plant in the world (up to 3 to 4 feet a day), and is an environmentally friendly tree wood alternative since it can be replenished and grown quickly without the use of pesticides or fertilizers. Bamboo is typically harvested every four to five years without destroying the plant and land around it.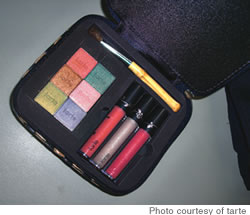 'Reusable straw palette and bamboo brush
Also, with the purchase of every tarte product that has its t5 super fruit complex, customers will be helping to preserve the Amazon rain forest through conservation, improved living conditions and educational opportunities for communities in Brazil. In support of the Sustainable Amazon Partnership (SAP), a public and private collaboration to promote lasting sustainable management of the Brazilian Amazon rain forest, tarte is using sustainable organic acai in its t5 and will be making contributions to SAP throughout the year.
* Tarte "be good to your mother (Earth)" reusable natural cotton tote bag and three natural lip sheers wrapped in post-consumer recycled aluminum, $35 available at Sephora and tarte.com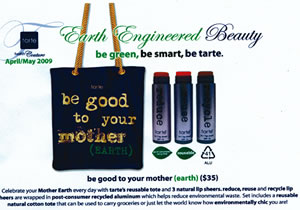 'Be good to your mother' reusable cotton tote bag and natural lip sheers
* The Reuse-A-Shoe Campaign presented by Mayor Mufi Hannemann and Niketown. Despite the recent announcement of Niketown Honolulu's closing in May, the fourth annual Nike Reuse-A-Shoe event continues this month. Instead of throwing away old athletic shoes (any brand, no cleats), add them to the huge shoe pile in front of Niketown in Waikiki April 26 from 9 a.m. to 2 p.m. Validated parking is available or use the convenient drive-thru drop-off on Kalaimoku Street. There also will be free Jamba Juice.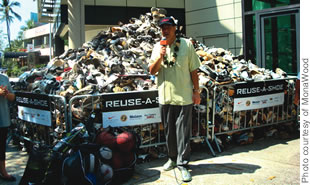 Mayor Mufi Hannemann in the front of a growing pile of more than 30,000 shoes at last year's Nike Reuse-A-Shoe event
Almost 20 years ago, Nike began collecting post-consumer athletic shoes of any brand and grinding them up to create a range of raw materials under the Nike Grind brand. These materials are used to make new sport surfaces, such as soccer fields, basketball courts and playground surfacing. Not only does it help Nike's long-term goal of waste elimination, but it also increases physical activity in youths around the world.
For more information, call 943-6453.
Most Recent Comment(s):