Good Healthy Fun

By
.(JavaScript must be enabled to view this email address)
Friday - April 28, 2006
|
Share
Del.icio.us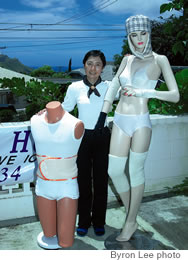 Rosa Louie of Clothing For Health will
be among the many vendors at the
upcoming Associated Chinese
University Women Health Fair at
Bishop Museum April 30
In celebration of its 75th anniversary, the Associated Chinese University Women are holding a health fair at Bishop Museum Sunday, April 30 from 10 a.m. to 5 p.m.
More than 30 vendors will be on-site offering products from healthy foods and supplements to makeup and massage, as well as services such as feng shui consultations and acupuncture.
There also will be crafts, food, and entertainment by Gleemen Plus of Honolulu, the Prince Kuhio Chorale, Na Leo Lani Chorale and the Royal Hawaiian Band Quintet.
"We're trying to put health and wellness into people's lives in a fun way," says Paula Fukuda, co-chair for the ACUW Health Fair. "We're going to have demonstrations, speakers, and vendors with products, practices and services that can help the overall quality of their lives.
"Some of the topics we'll be covering include preventing pediatric obesity, importance of hand-washing, and good nutrition/healthy choices for all ages."
Among the many unique vendors is Clothing For Health, a store located in Chinatown offering clothing believed to have healing powers.
"The clothes are made of a fiber that contains negative ions so it helps to rejuvenate the body cells," explains Rosa Louie, owner of Clothing For Health. "We have many testimonies, including myself, it made me look younger.
"Other people have recovered from high blood pressure, diabetes and heart disease and even cancer. It's a miracle fiber."
The products are manufactured by a company known as Nefful, and range from innerwear to outerwear (T-shirts, jackets, pants, skirts, etc.), as well as supporters such as socks, wristbands, waist belts and shoulder pads.
The clothes are imported from Japan, but Clothing For Health also offers custom tailoring.
"We have clothes for all ages, from baby to 100 years old," adds Louie. "The clothes can help any part of your body cell become younger. For example, it made my hair rejuvenate, so I have no more white hair, now it's black and shiny.
"We also have a mask you can wear to rejuvenate your face; you can wear it every night and it's
like a facial. And for people who want to re-grow their hair, we have hats. And if you have injuries it can take away your aches and pains."
Also participating in the health fair is Kevi of Hawaii, a local company offering a variety of health and nutrition products called Golden Neo-life Diamite.
Products include vitamins, herbals, weight-loss pills and shakes, and an European skin care line from Switzerland.
There also will be representatives from the Healing Arts Center demonstrating healing touch, body stress release and massage therapy. Located in Aiea, The Healing Arts Center offers a variety of healing services, including cranio sacral, acupuncture, theta healing and integrative quantum medicine.
The health fair is part of a monthlong exhibit at Bishop Museum, "Celebrating Chinese Women: Qing Dynasty to Modern Hawai'i." The exhibit (on display now through May 21 in the Castle Memorial Building) features the ornate robes of the women of the Imperial Court, accoutrements from The Palace Museum of the Forbidden City in Beijing, and beautiful textiles from The Chinese Costume Museum of Donghua University in Shanghai.
More than 50 priceless artifacts from these two prestigious Chinese museums are on display for the first time ever in the United States.
Other vendors scheduled to be at the health fair include Elaine Jay, The Massage Therapy Group, Shing Kai Trading Co., June Ho Professional Feng Shui, Matsukawa Healing Center, Michael A. Dang DDS, John Hancock, GTY Enterprises, Kokua Natural Foods Cooperative, Goji 4 Life Hawaii, Mary Kay Skin Care & Cosmetics, Taira Chiropractic, Nuevir Skin Care, herbalist and acupuncturist James Zhen Hui Zhong D.A.C. LMT, YeeCorp Financial & Insurance Services, AFLAC, Susan G. Komen Breast Cancer Foundation, Shanghai Bistro, Healthy Concepts, Zen Chiropractic, and more.
Admission to the health fair is $3 for kamaaina and military personnel with I.D., Bishop Museum members and children age 3 and under. For details, call 847-3511 or visit http://www.bishopmuseum.org
Most Recent Comment(s):