Good Socks Are Vital For Runners

By
.(JavaScript must be enabled to view this email address)
Friday - December 08, 2010
|
Share
Del.icio.us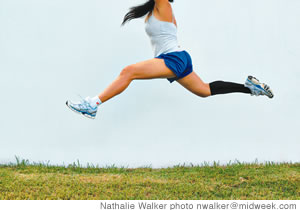 For long-distance runners, wearing the right socks as well as shoes is important
Thousands of runners will take to the streets of Honolulu this Sunday (Dec. 12) for the Honolulu Marathon starting at 5 a.m.
As of last week, 21,214 runners had signed up for the race. It's a great sports event that I believe anybody can do, and encourage everybody try it at least once in their lifetime.
I've completed 13 marathons, but won't be running this year. However, I hope to be at the start line next year.
People sometimes ask me for some running advice, and my biggest tip for them is to have the right gear.
So before you lace up your shoes, make sure you're wearing the right pair. Many running stores are staffed with experts who can help you find the right apparel and shoes to enhance your running performance, including socks.
Yes, there is a difference between running socks and regular socks.
"Most runners when they go to find a sock for long-distance running, they're very concerned about blisters, so No. 1 you want a sock that will wick moisture faster than anything else. Cotton won't do it anymore," says Don Crusius of VitalSox. "Blisters can be caused from the sock moving around your foot, and if the sock doesn't wick properly, now you've got a wet sock that's moving around causing friction.
"Also, a running sock is really designed with padding in the fore-foot and the heel area, and with support in the Achilles. Whether you're a heel-striker or a forefoot-striker, you need that padding at the bottom of your foot. A regular sock pretty much has the same thickness all throughout the sock."
Vitalsox, an Italian line of high-performance socks for runners, hikers, cyclists and other athletes, uses a patented wicking and antibacterial fiber called Silver DryStat that keeps feet dry and protects them from bacterial growth.
The company also offers a compression sock that goes over the calf and is designed to improve oxygen delivery to muscles, reduce lactic acid production, reduce swelling and muscle stiffness and soreness, relieve cramping and promote recovery.
Available online at Vitalsox.com and at the Honolulu Marathon Expo Dec. 8-11 at Hawaii Convention Center, Vitalsox socks retail from $12 to $36, depending on the style.
Running socks come in various styles (no-show, ankle, over the ankle, calf, etc.), and the length you choose really is a personal preference.
Some people may choose the no-show to avoid tan lines, while serious runners will often wear an ankle sock for more support.
And just as you would try on a shoe before you purchase it, you should also try on any athletic socks before heading to the register. You want to make sure it fits and it's comfortable.
One problem I've had with generic socks in the past is the loss of elasticity, and there is nothing more annoying when you're running than a sock falling into your shoe.
In addition to Vitalsox, there will be about 100 exhibitors at the Honolulu Marathon expo, which is free and open to the public.
You can still sign up for the race. Expo hours are Dec. 8 from 10 a.m. to 6 p.m., Dec. 9 from 9 a.m. to 6 p.m., Dec. 10 from 9 a.m. to 7 p.m. and Dec. 11 from 9 a.m. to 5 p.m.
To all those who will be at the start line this year, good luck and happy running!
Most Recent Comment(s):