Got Which Milk?

By
.(JavaScript must be enabled to view this email address)
Friday - March 17, 2006
|
Share
Del.icio.us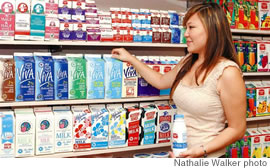 Mia Inoshita, a registered dietitian at Meadow Gold,
shows off the different types of milk available today
Are you drinking the right type of milk? I'm not. Well, at least I wasn't until now.
Next time you're at the supermarket, check out the dairy aisle. It's like a candy store of milk products.
I usually buy Viva 2 percent as that's the milk I drank throughout elementary, intermediate and high school.
Well, I've just discovered that 2 percent milk has too much milk fat for me.
Most grocery stores offer whole milk, 2 percent or reduced fat, 1 percent or low-fat, and fatfree/non-fat or skim milk.
The difference among these is the amount of milk fat they contain. According to Meadow Gold, whole milk contains at least 3.25 percent milk fat, reduced-fat and low-fat milk have some of the milk fat removed to either a 2 percent or 1 percent level, and fat-free milk must have less than 0.5 percent milk fat.
And that's not all that's available. There are also acidophilus and other reduced-lactose or lactose-free milks which are usually consumed by those who are lactose intolerant.
Also in stock are ultra-high temperature milks (UHT), which is milk pasteurized at a high temperature for longer storage life than regular fresh milk, enhanced milks or fortified milks, and milks with added value, such as omega-3 fatty acids, extra protein, or extra calcium added.
And then there's my ultimate favorite - chocolate milk - along with other flavored milks like strawberry.
We've all heard the slogan: Milk does the body good. But do you know which milk is right for you?
According to Mia Inoshita, a registered dietitian at Meadow Gold, the general recommendations for the type of milk a person should drink are:
* Children between 1 and 2 years old should drink whole milk. They need more fat in their diet for proper growth. For children under the age of 1, breast milk is best.
* Adults and children over age 2 should drink low-fat (1 percent) or fat-free skim milk, unless they have medical reasons not to.
"The 2005 Dietary Recommendations advise that individuals should consume three cups per day of fat-free, lowfat milk or equivalent milk products," says Inoshita. "Milk is a nutrient-rich beverage, meaning it provides high amounts of nutrients in comparison with the amount of calories it provides. It contains nine essential nutrients including calcium, phosphorous, potassium, niacin and protein, and vitamins A, D and B12 riboflavin, making it one of the most nutrient-rich beverages available.
"Milk is an excellent source of calcium, the mineral needed to build and maintain strong bones and teeth. Getting enough calcium in your diet can also reduce the risk of osteoporosis, a bone disease that causes bones to become weak and fragile."
So which milk should I be drinking? "If you drink cow's milk, 1 percent or fat-free," answers Inoshita. "If you do not drink cow's milk, then drink soymilk (fortified) as an alternative to ensure adequate calcium intake, or even calcium-fortified orange juice.
"Research has shown that whole milk and 2 percent milk are the primary sources of saturated fat in the diets of children and a significant source of saturated fat in the diets of adults."
Next week: Cow's milk vs. soymilk. Milk shopping, handling and storing tips. And Meadow Gold's newest creation: Skinny Milk and Root Beer Float-flavored fat-free milk.
Most Recent Comment(s):