Great Oahu Walks

By
.(JavaScript must be enabled to view this email address)
Friday - April 23, 2005
|
Share
Del.icio.us
Walking — it does the body good.
About 4,000 people will gather at Kapiolani Park Saturday to take a five-mile stroll for the March of Dimes WalkAmerica in support of the charity's mission: to prevent birth defects and infant mortality.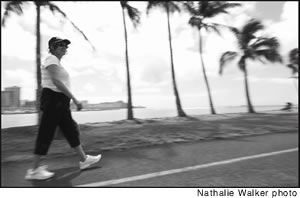 Madeline Byerly takes a brisk walk at Magic Island
While there are many different charity walks held throughout the year,walking is something that people should consider doing all year round. Studies have shown that doing a minimum of 30 minutes of physical activity of moderate intensity, such as brisk walking, most days of the week, can greatly reduce the risk of many diseases, including heart disease, diabetes, cancer and stroke. And for seniors, it can reduce the risk of dementia and Alzheimer's disease.
"Brisk walking or fast walking is not very different from running," says pediatrician Stephen Tenby. "It's almost identical in the number of calories you expend and the health benefits. I don't think you need to do race walking, just regular fast walking where you're not stopping every few minutes. It's continuous walking.
"Also, if people have bad knees, a bad back or other physical problems, walking may be better for them. And I don't feel that stretching is essential, but a small amount of stretching (about one minute) before can be beneficial. More than that is certainly not necessary."
Walking is easy, safe and inexpensive. You can do it at your own time, place and pace. And you don't need a fitness club membership or fancy equipment. "Walking is also a good way to lose weight," adds Gerry Lindgren, a legendary distance runner and National Track & Field Hall of Fame inductee who is now a running coach on Oahu. "You can do it anytime of the day, anywhere, and all you need is a pair of comfortable shoes. There are a lot of great places to walk around Oahu, but you can even just go up and down your street.
"Also, you should go by time rather than by how far. An hour of walking is really good for you, but even just half an hour three times a week and you should be able to see some results, depending on the intensity and the speed you go."
A good pair of walking shoes should be comfortable, not too stiff, and fit well (with enough room so your feet can expand while walking). Most running shoes can also be used for walking, and may even be better as they usually have a lot more technical performance features. Also, shoes should be replaced after about every 500 miles.
As for those who need a little motivation, make it a social event. Schedule regular walks with your friends, family, co-workers, neighbors — and don't forget your pets.
Over the last five years, WalkAmerica has raised an average of $80 million annually on a nationwide basis. In Hawaii, the 2004 WalkAmerica raised more than $380,000 with over 3,500 walkers and volunteers statewide.
This year's event takes off at 7:30 a.m. at the Kapiolani Park Bandstand. An opening ceremony with Lt. Gov. Duke Aiona and WalkAmerica chairman Clint Arnoldus will begin 7 a.m. followed by warm-up exercises with Gil Janklowicz.
Day-of-walk registration is available starting at 6:30 a.m. For more information on March of Dimes WalkAmerica, call The March of Dimes Hawaii Chapter at 973-2155 or visit www.walkamerica.org
Here's a list of some great places to walk on Oahu:
• Ala Moana Beach Park (about 3 miles, including Magic Island)
• Ala Wai Canal (about a 4-mile loop)
• Diamond Head State Monument (moderate family hike with a panoramic view of Honolulu, trail 0.7 mile one-way and with some hazards)
• Kaena Point State Park — End of Farrington Highway, Makua (long family hike, 2.7 miles one-way along volcanic coast with tide pools, small natural stone arches and fine view of Makua coastline)
• Kahana Valley State Park — (hardy family hike, 4.9 miles in a scenic wildland valley)
• Kakaako Waterfront Park — End of Ahui or Ohe streets off Ala Moana Boulevard (waterfront park with fine views of Waikiki and Diamond Head)
• Keaiwa Heiau State Recreation Area (hardy family hiking, 4.8 mile loop trail)
• Kapiolani Park (about 2 miles around)
• Ho'omaluhia Botanical Gardens (in Kaneohe)
• Makapuu Point State Wayside — off Kalanianaole Highway from either Waimanalo or Hawaii Kai (One-mile hike one-way along the former roadway to the lighthouse, with sweeping views of the southeastern Oahu coastline, and an uphill climb to 500- foot elevation)
• Sand Island State Recreation Area — end of Sand Island Access Road, off Nimitz Highway (landscaped coastal park with a good view of Honolulu Harbor and attractive sunsets)
• Waahila Ridge State Recreation Area — end of Ruth Place via Peter Street from St. Louis Drive off Waialae Avenue (a Norfolk Island pine forested ridge with fine views of Manoa and Palolo valleys)
.(JavaScript must be enabled to view this email address)
Most Recent Comment(s):